Sometimes it's good to indulge in a bit of reminiscing, particularly so when Scottish winter climbing adventures can leave such a profound impression. Below I've gathered my favourite images form recent winters and accompanied each with a short vignette. Every one is meaningful in some way, whether due to the route itself, the shared experience with partners or simply being happy with the photo. Click through the links to read the full posts.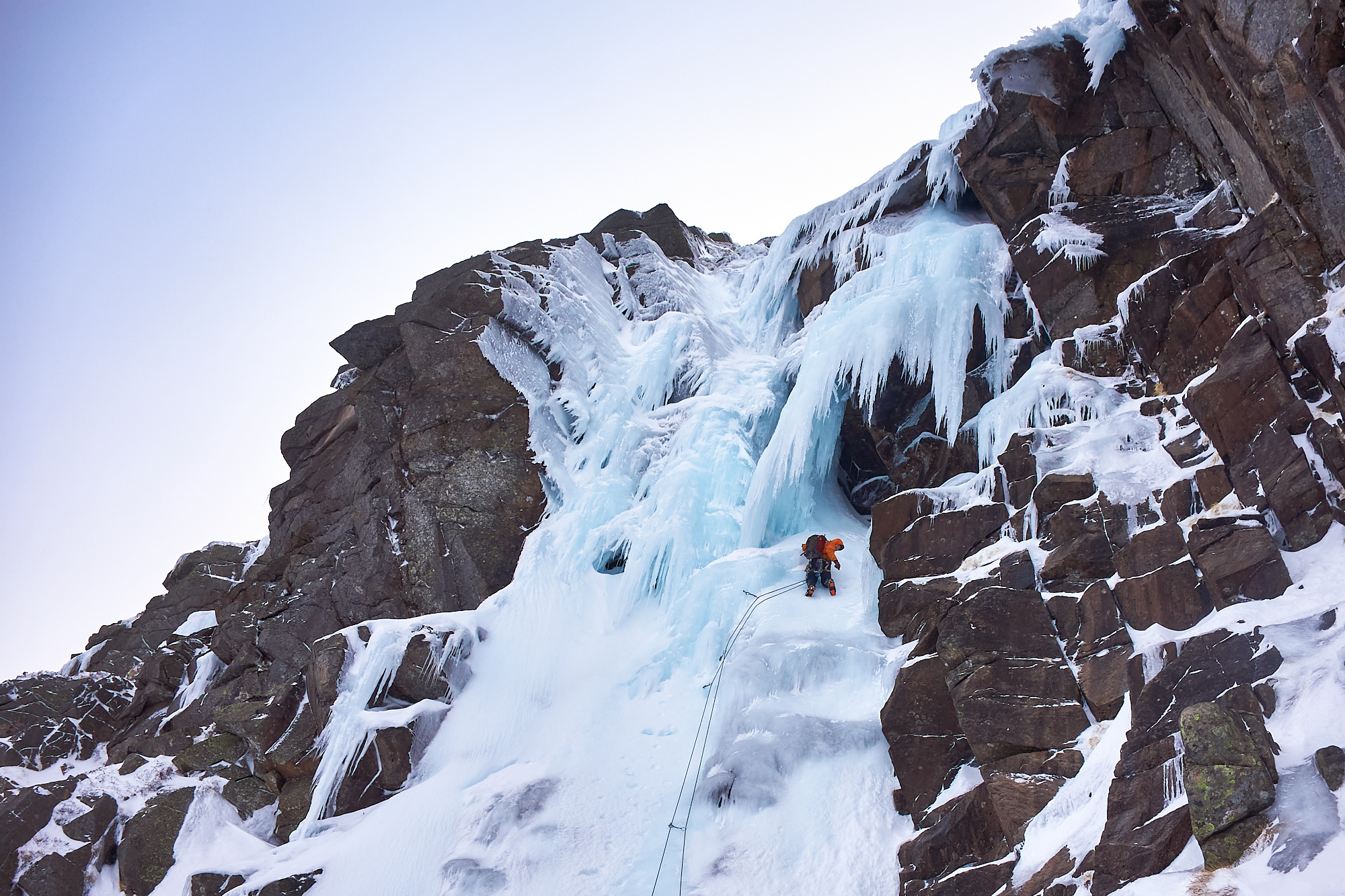 In January of 2015 Debs and I ambitiously took a punt on something icy on Creag an Dubh Loch being in condition. The approach was tough going in heavy snow and the cliffs of the Dubh Loch were covered in powder, but fortune favours the brave and the cliffs of Eagles Rock, on the opposing aspect, contained a number of fat blue icefalls. The most impressive (and nearest) was The Drool and we got stuck in to what turned out to be a simply superb route! From the stunning scenery and the remoteness, to the quality of the climbing and high adventure factor, it certainly was Wild Ice in a Wild Place.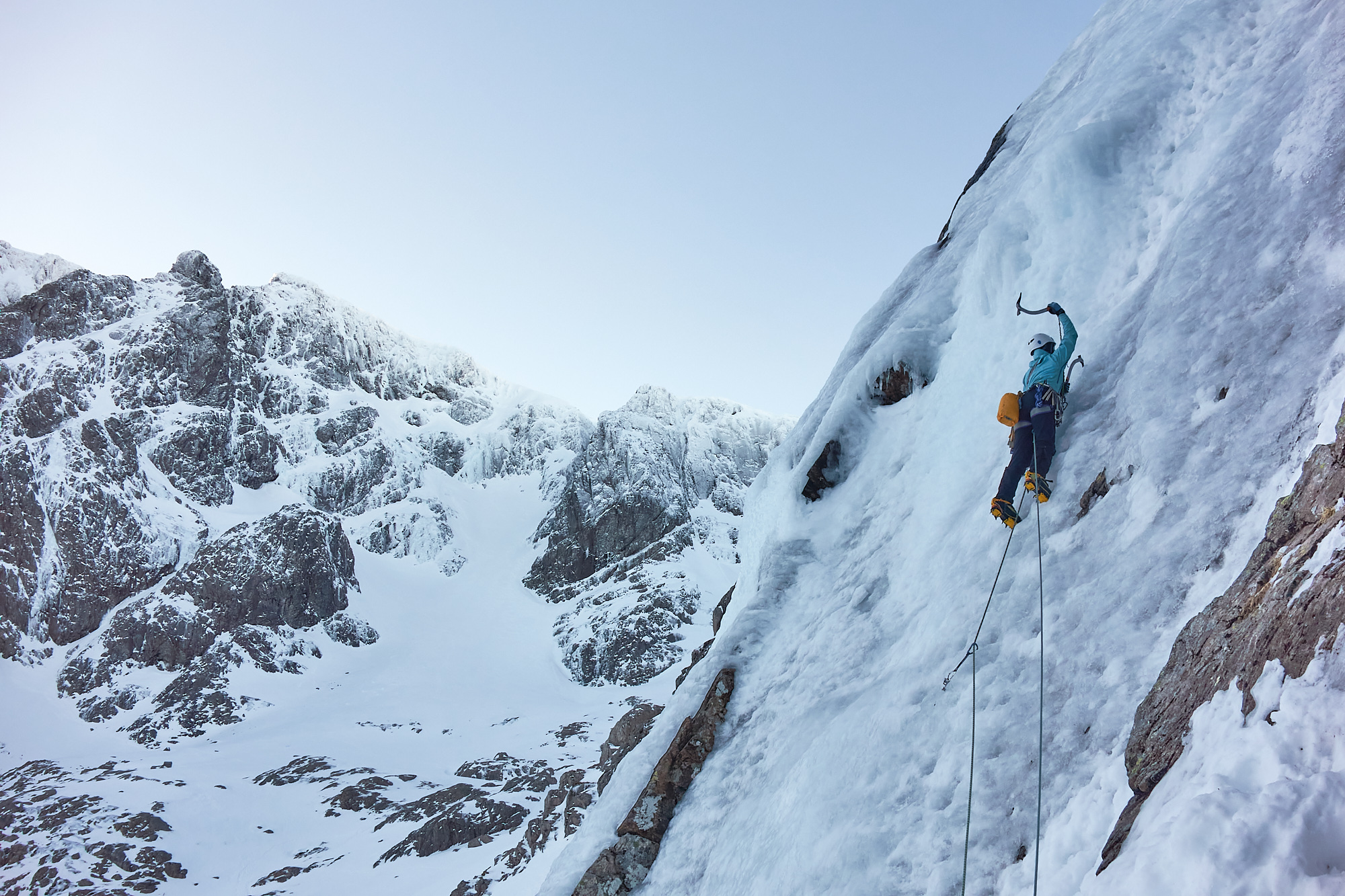 One month later and Scotland delivered again, with stellar conditions on Ben Nevis coming through for us just as we aborted a trip to Norway thanks to unseasonably warm temperatures. We spent two days with good friends climbing some classics, including The Curtain, Italian Right Hand, Point Five Gully and Boomer's Requiem. I nabbed this photo of Debs as she embarked on the first pitch of The Curtain and it always serves to remind me that when it's in, West is Best!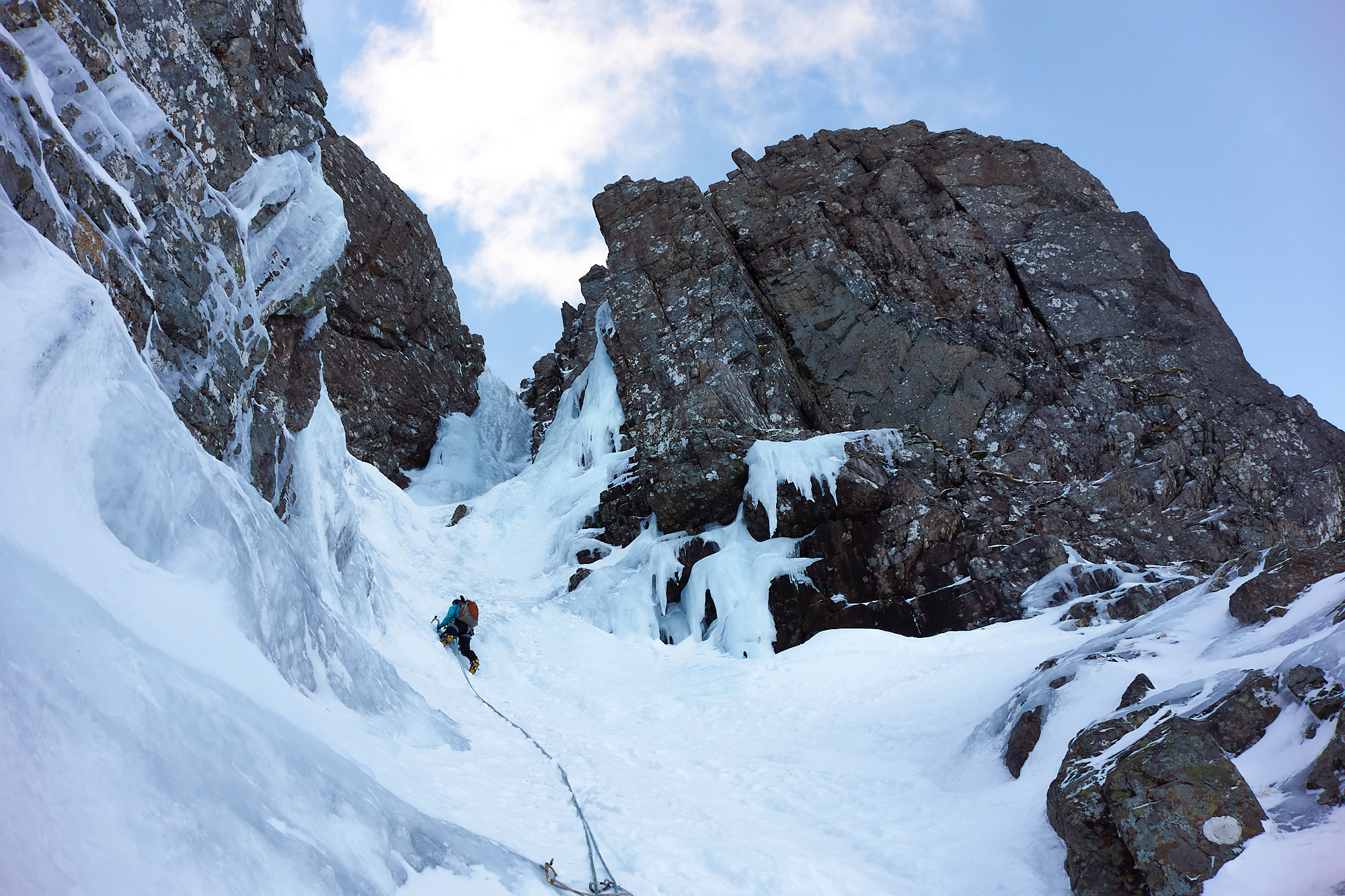 I couldn't resist including another image from that trip to The Ben and this one of Debs setting out on Boomer's Requiem invokes fond memories. The steeper sections of the route were in great condition, with plastic ice taking picks and screws well. The crux is notoriously steep and some high mileage on Norwegian cascades in past years served me well! Above the crux, another full pitch of ice debouched us on easier terrain to the top, whereupon an interminable descent in darkness down the north west flank of Carn Dearg ensued. The fun didn't end there, however, as on the way down we saw a meteorite burn up in the atmosphere in a blazing fire-ball and then promptly received a call to let us know Debs' sister and partner were engaged. True story!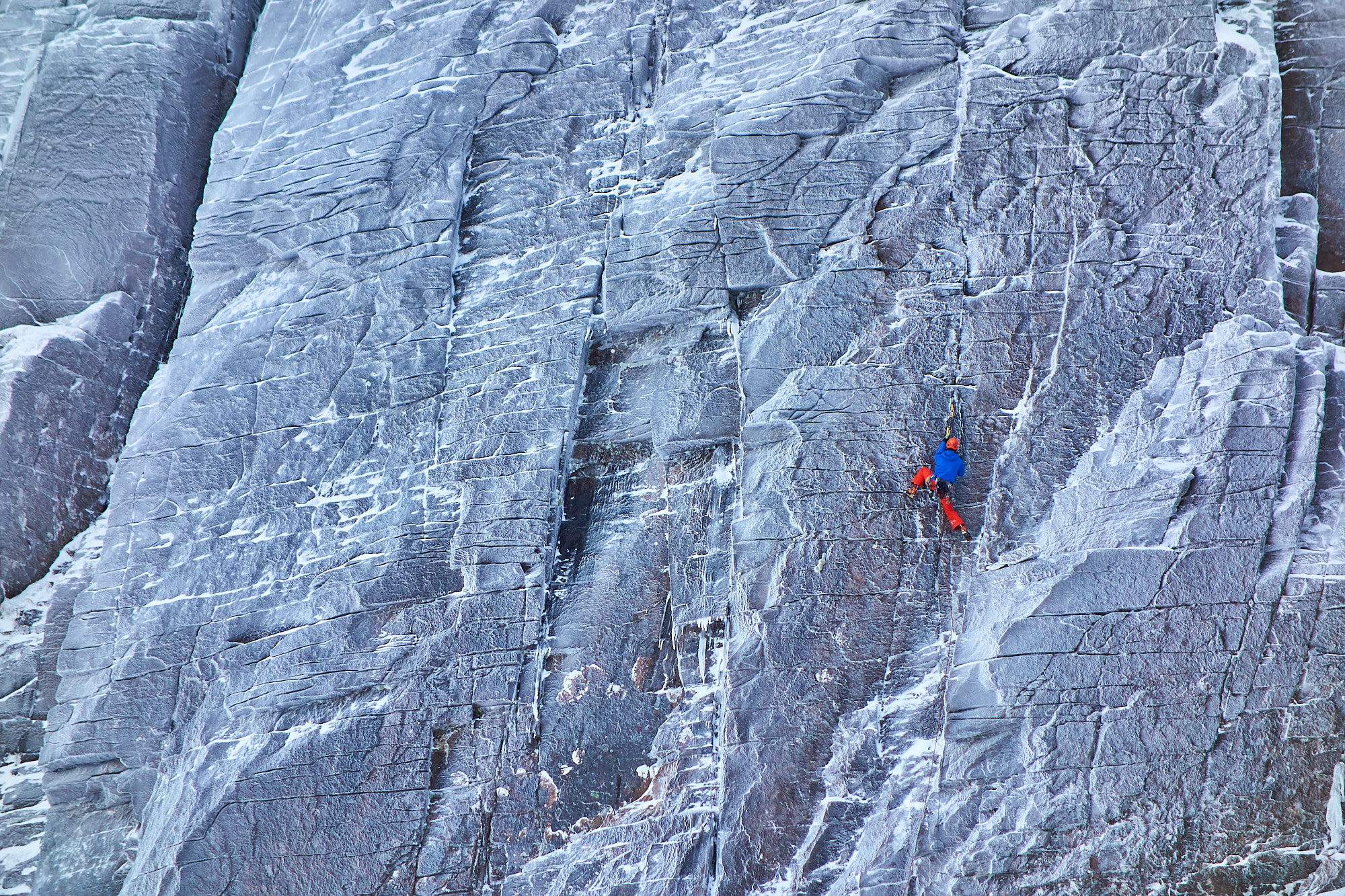 Fast forward to the end of 2015 and lean early-season mixed conditions were rife in the Northern Corries of the Cairngorms. We joined the crowds for a subterranean excursion on the brilliant Savage Slit but not before I took this shot of a colourful Andy Inglis against the monotone front face of No.3 Buttress. Subsequently, the image featured on the inside cover of the Alpine Journal and a photo of Joe on the Slit made it into Simon Richardson's tactical treatise, Chasing the Ephemeral. On the descent we foolishly failed to extend our abseil anchor enough to prevent the ropes becoming jammed, which necessitated a retrieval mission the following day via Sidewinder; one of many Silver Linings!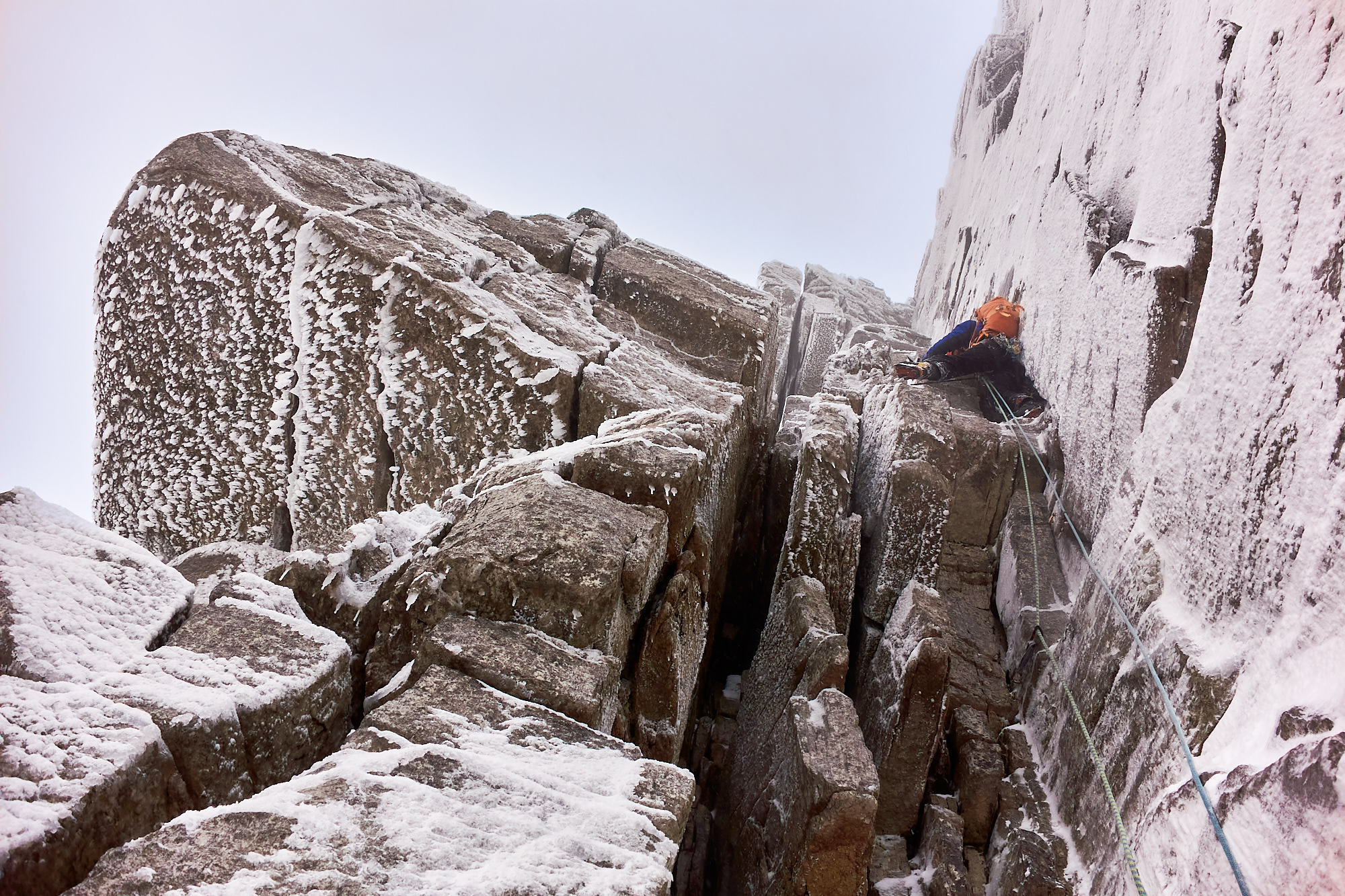 Later that same season conditions in the NW Highlands were looking good, so we hatched a long-weekend plan to tick off the classic West Buttress on Beinn Eighe and some ice lines in Liathach's Coire Dubh Mor. West Buttress was a bit of a rematch having bailed off the route due to poor conditions earlier in the season, but despite the prior knowledge, the improved conditions and even bringing a Harrison along, it didn't exactly go to plan… Suffice to say that no trip to the wild NW in winter is a wasted effort and that it's Always Stunning in Torridon!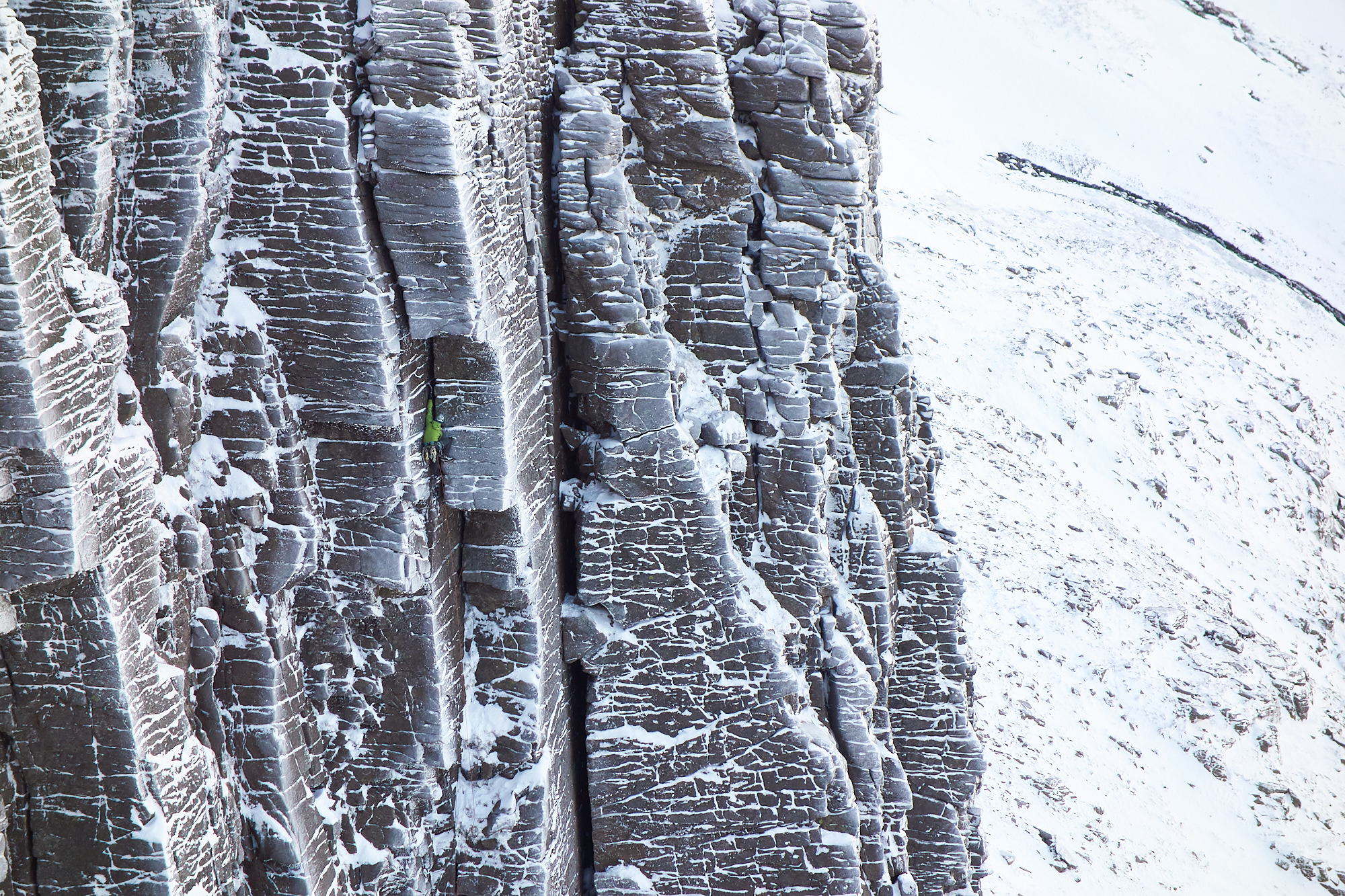 The 2016/17 winter season started early and as usual began with the snowed-up rock routes of the Northern Corries coming into condition first. On a crystal clear November weekend, Andy Harrison and I made ascents of Pygmy Ridge and Ewan Buttress, the latter affording excellent views of No.4 Buttress in Coire and Lochain. The vantage point allowed me to nab this shot of Alasdair Fulton climbing Bulgy – I remember how outrageous the route looked and how smoothly he dispatched the crux. Even in such Lean Times there's a lot of adventure to be had!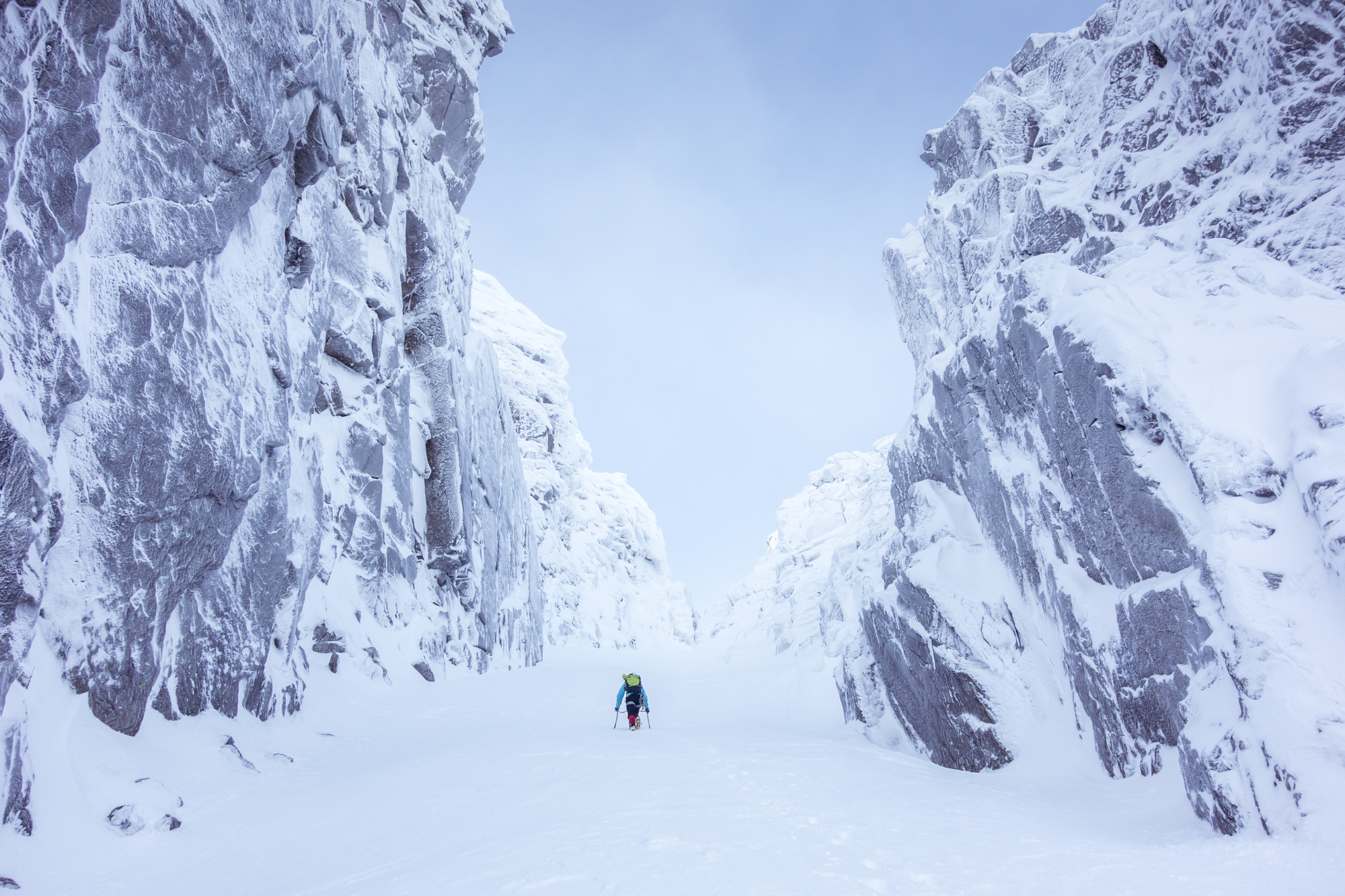 Sometimes you don't need to climb a difficult route to have a meaningful experience in the mountains and this shot of Debs heading up Lochnagar's Black Spout Gully perfectly encapsulates this for me. The previous year our first son arrived and climbing adventures together had been replaced by a whole new kind of adventure – parenthood. We were both so thankful for the opportunity to hit the hills together and the fact that Lochnagar was in full majestic winter raiment just made it all the more special.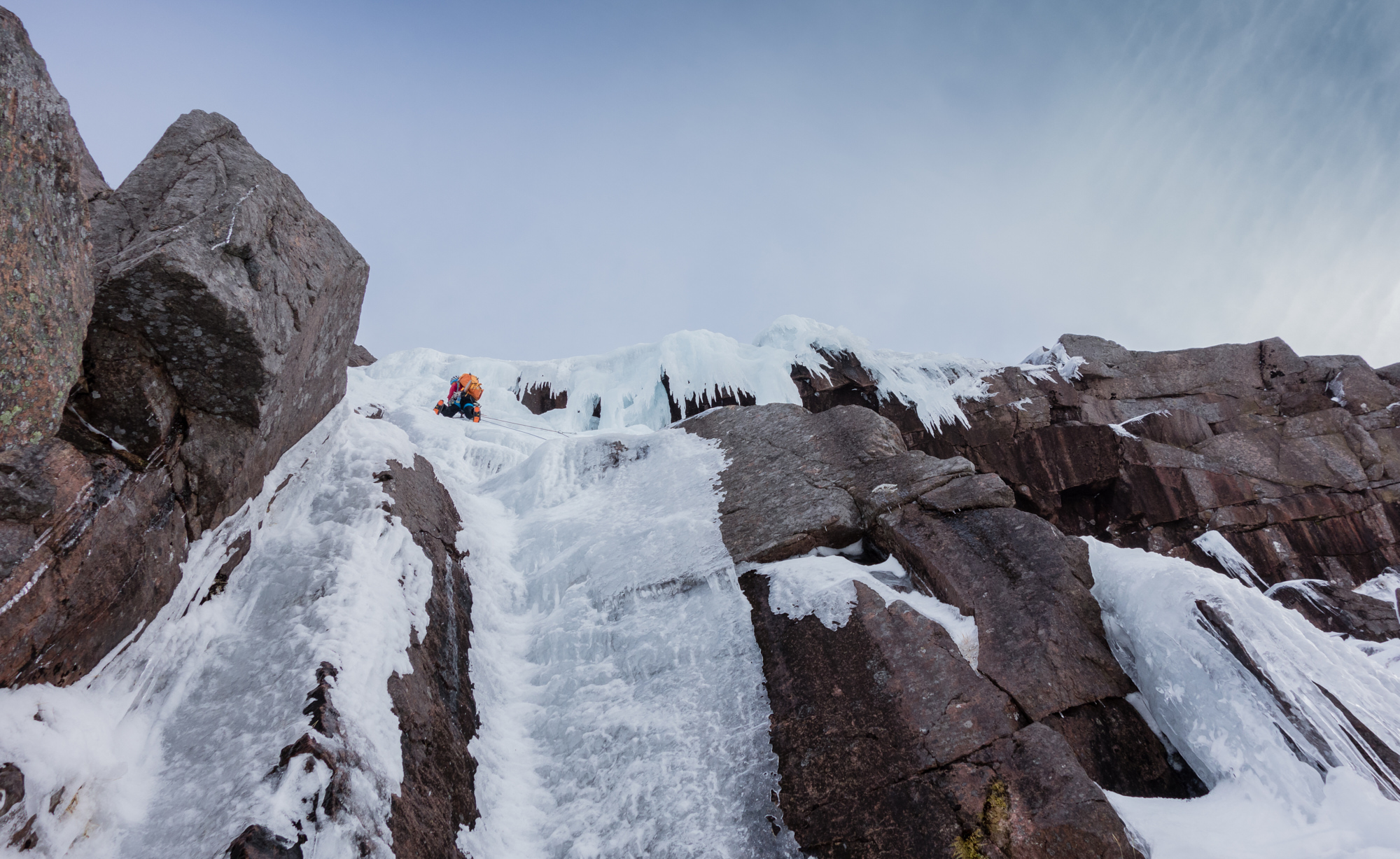 Lurcher's Crag is a good bet when south-westerlies dump loads of snow on northerly aspects and swamp the popular venues in powder; you can often go and climb quality ice on the other side of the hill! It needs to be cold for a bit too of course but if you time it right you can find hundreds of metres of pure ice that's clear of loose snow. A superb combination is to climb the first three pitches of Window Gully (this is between North and Central Gullies), traverse left and tick the crux pitch of K9, then come back to the last couple of pitches of Window. This photo simply reminds me of a top day out in great conditions with mates – it was the Dog's Danglies for sure!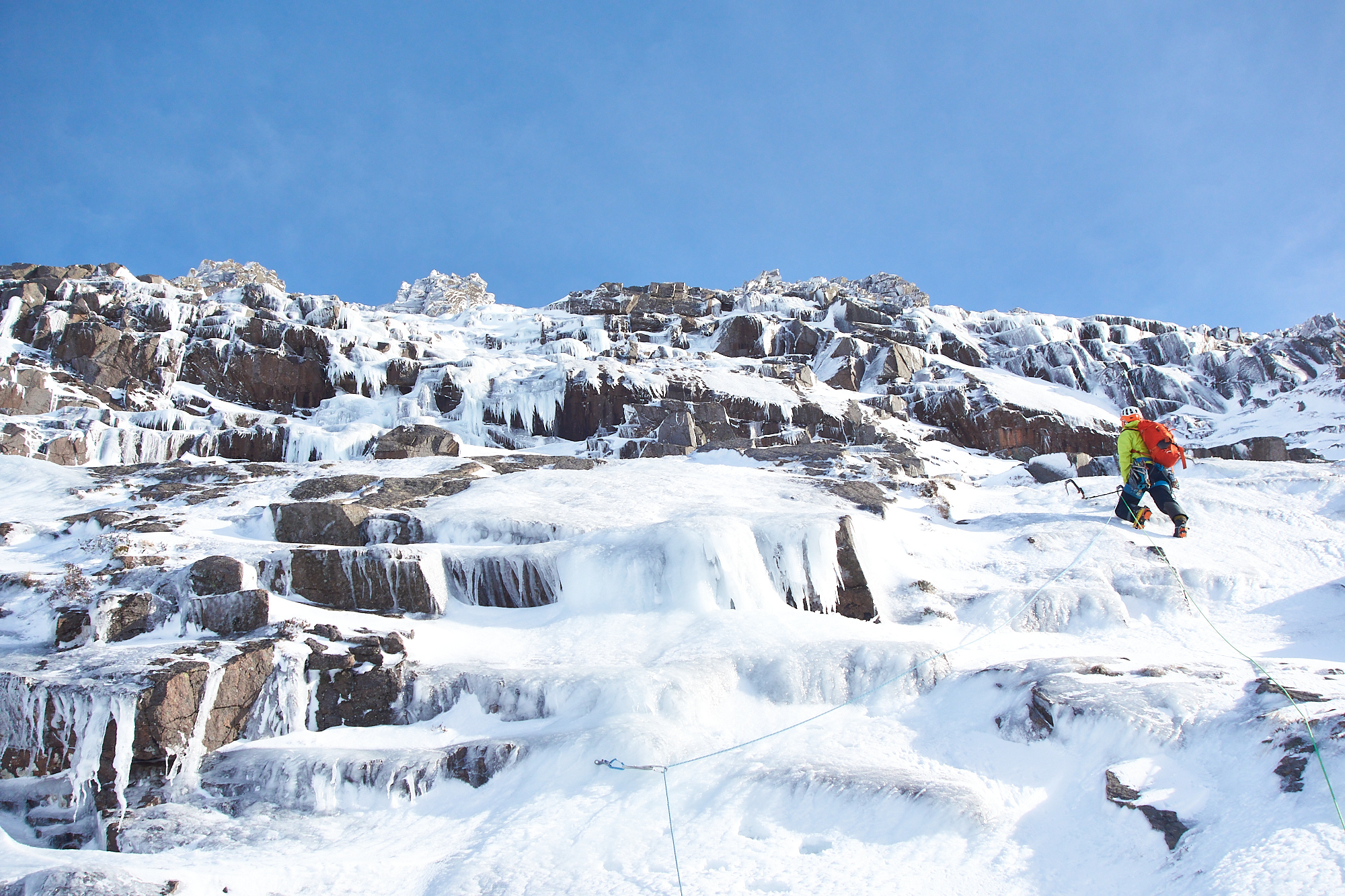 It's Lucher's again, but I had to include this one as it will hopefully entice people to repeat the new route Andy Harrison and I accidentally stumbled across in February 2022: Hoping to find Diamond Gully in condition, we traversed beneath the highest part of the crag, right of Central Gully, only to find we had walked past the best looking ice on the face. We reversed our steps and headed up icy slabs to breach overlaps via free-standing pillars and grooves, before linking snow fields into an exit gully and easy mixed ground. To later find out we had climbed mostly new ground, in a direct line up the face really was An Ice Surprise!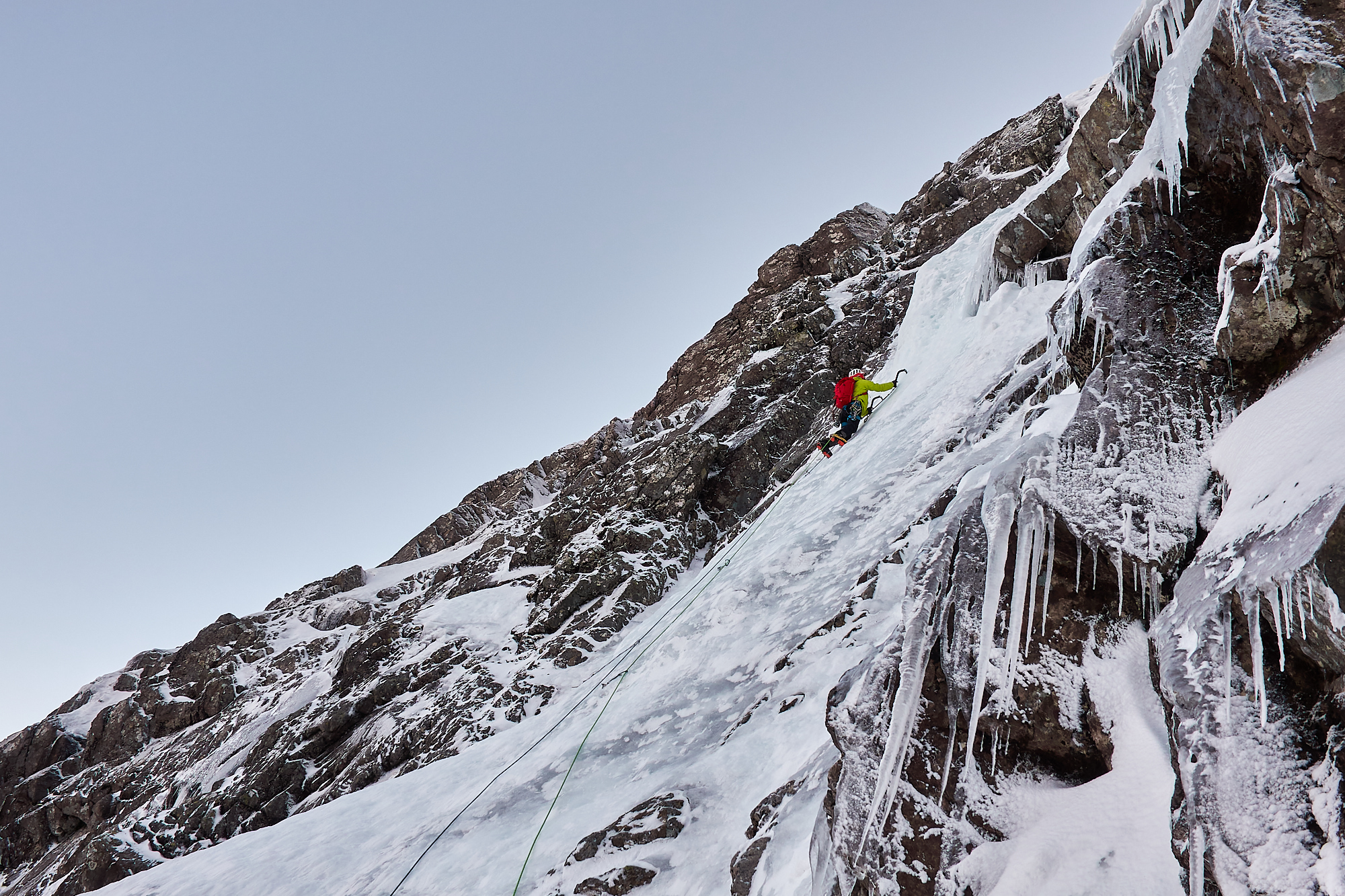 Back to the Ben for a total classic – Hadrian's Wall Direct takes an unmistakable line up the big smear between Observatory Ridge and Point Five Gully and is worth every superlative going. Andy and I snuck up the route in an April cold snap following a deep thaw, and while we were rewarded with near-continuous ice, the calf-bursting sustained nature of the route demanded respect. Nearing the top, just when you think you've cracked it, another full rope length of blue ice reminds you that big grade V's on the Ben are the real deal – Spring Ice Perfection indeed!