After a sharp thaw and hard re-freeze, reports of stellar conditions all over the Highlands were flooding in. Not wanting to miss out, Andy and I hatched plans for the Loch Avon Basin in the heart of the Cairngorms. Having never climbed there in winter before, we wanted good walking and climbing conditions combined with a great forecast. With all three apparently in the bag we set off from the ski centre at an optimistic 7 am.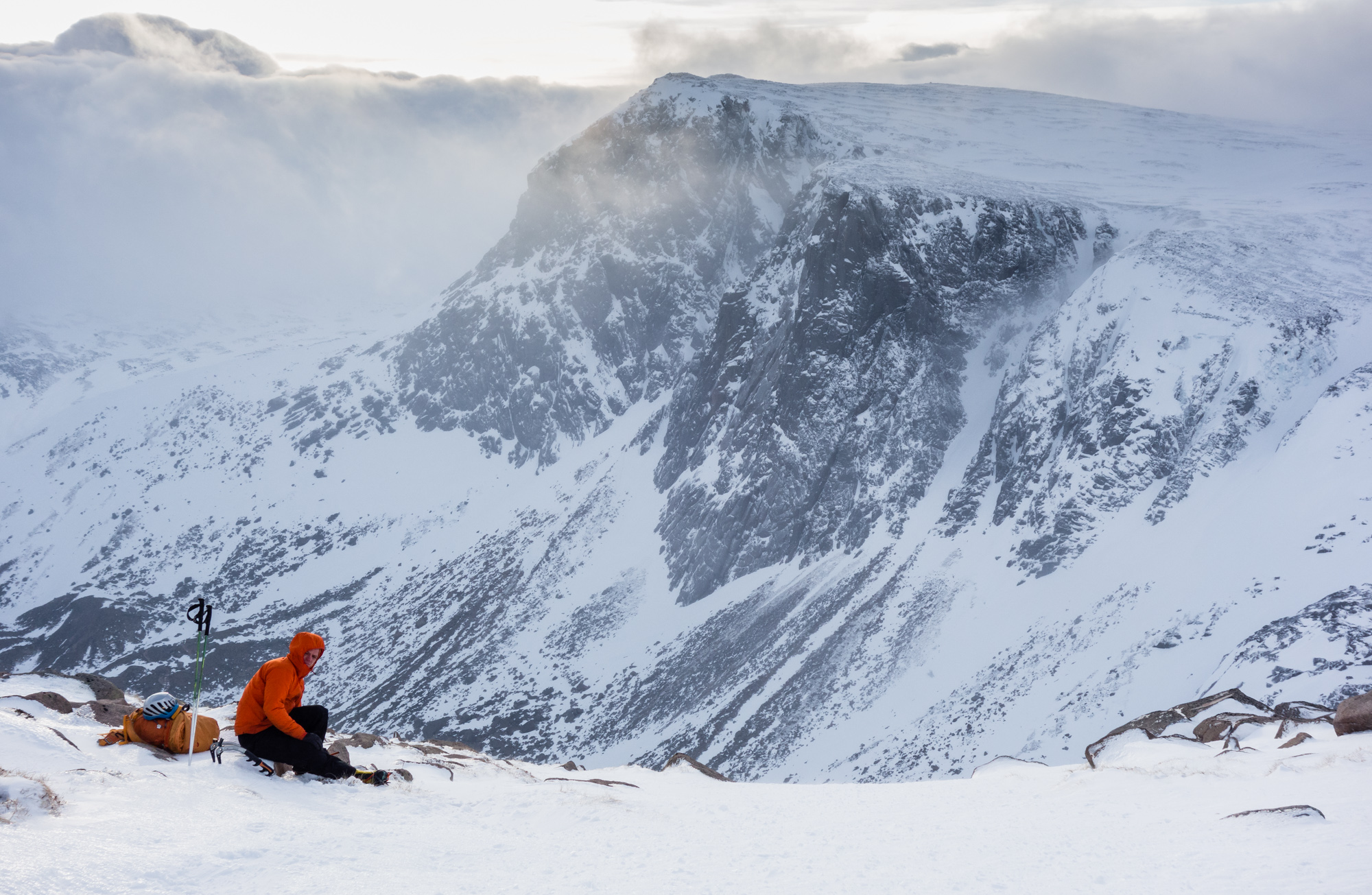 Sometime later as we crossed the plateau in the biting wind, we began to wonder if such a leisurely start was a good idea. Descending in to the basin we were met with a very contrasting view: On one side the giant cliffs of Carn Etchachan and The Shelterstone were periodically engulfed in dark swirling clouds, while on the other side Hell's Lum Crag dazzled in the sun as lines of white ice and neve oozed down every route. Hmmm…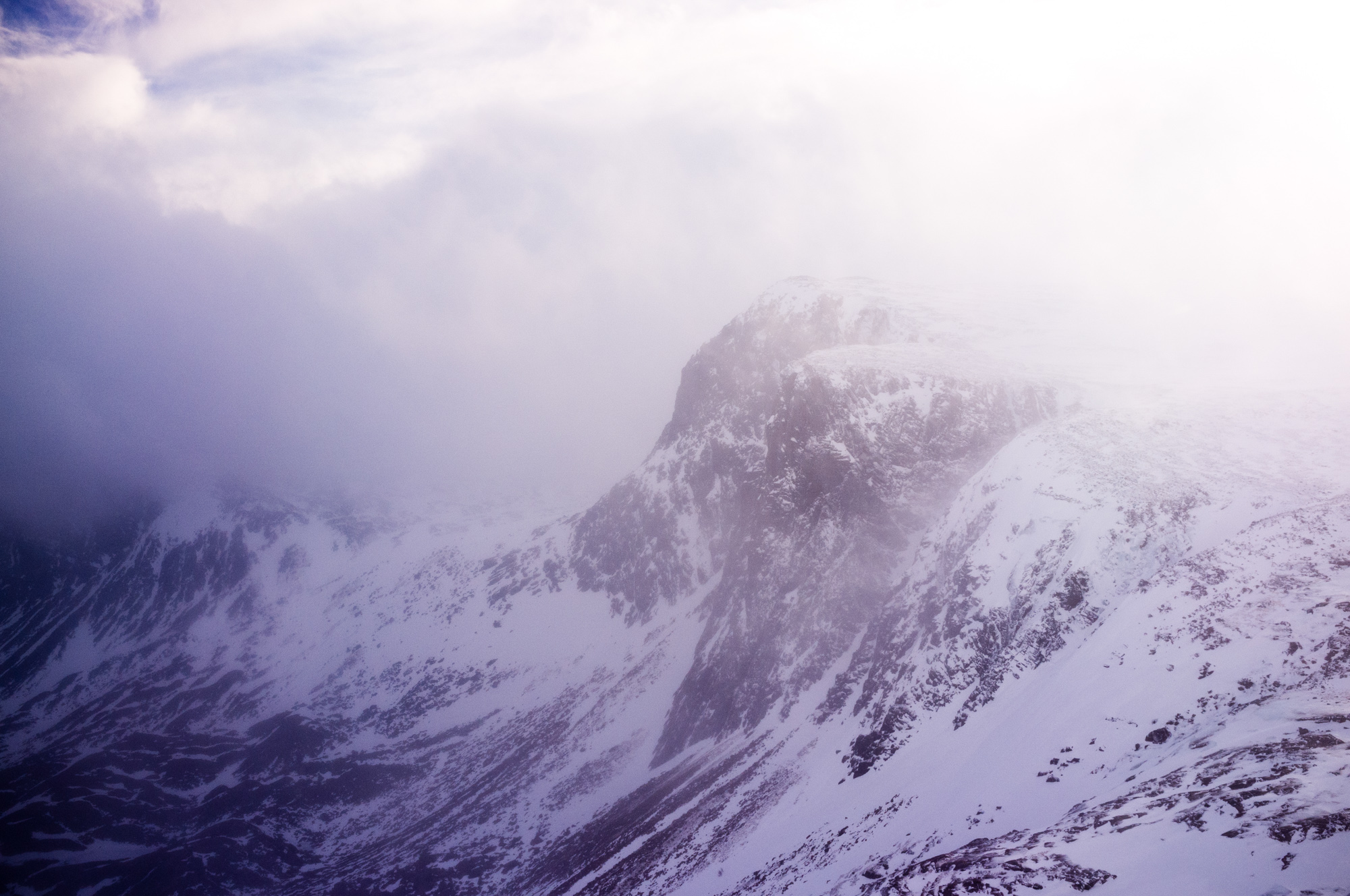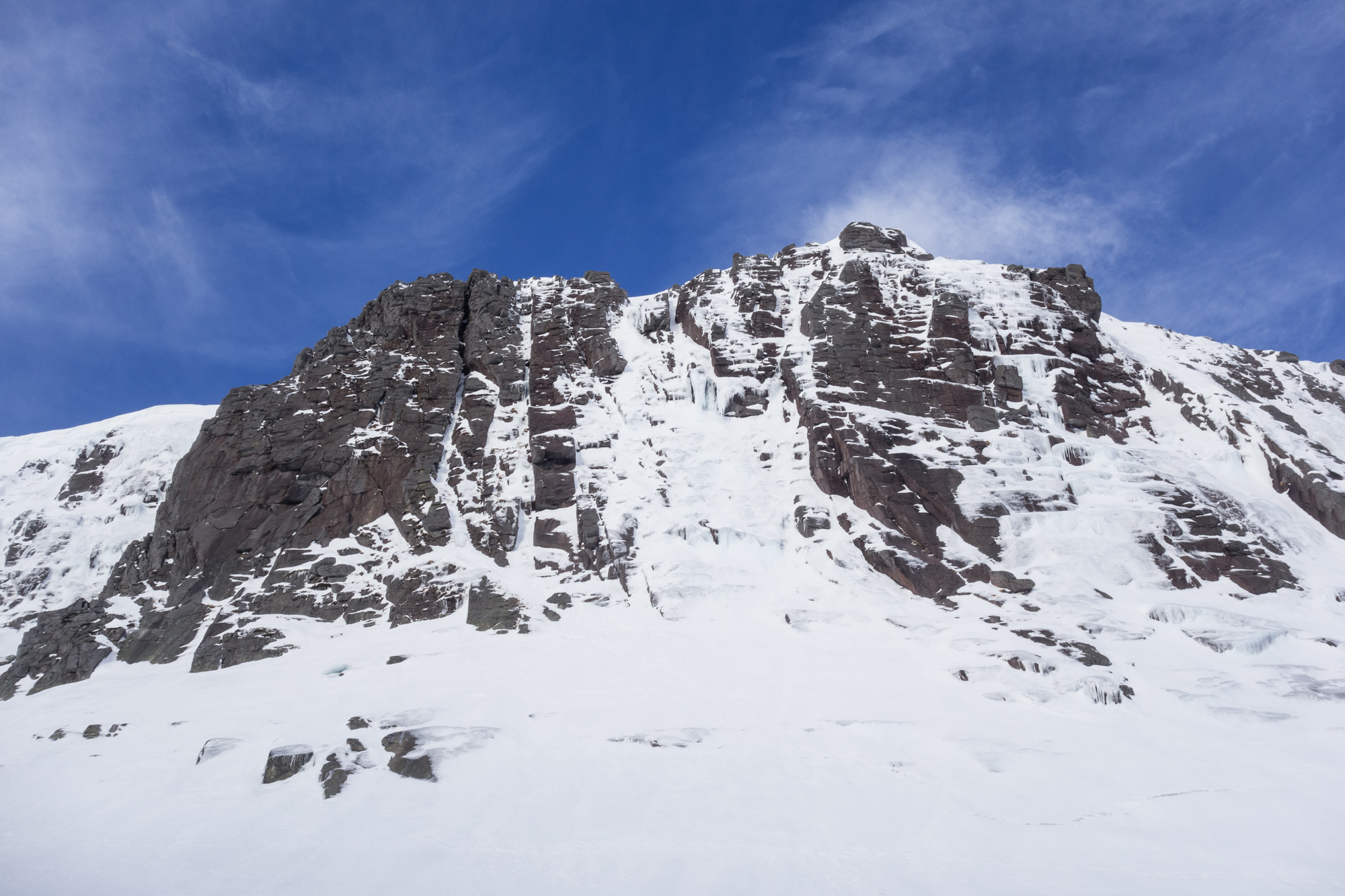 Deciding on ice climbing in the sun rather than risking an epic in the clag was an easy choice in the end, but having blunt tools and a mixed rack made route choice even easier and we made a beeline for the classic Deep Cut Chimney (IV, 5). However, short blunt mono-points and worn secondary points made the steep approach slopes a bit too exciting for me – a lesson scarily learned…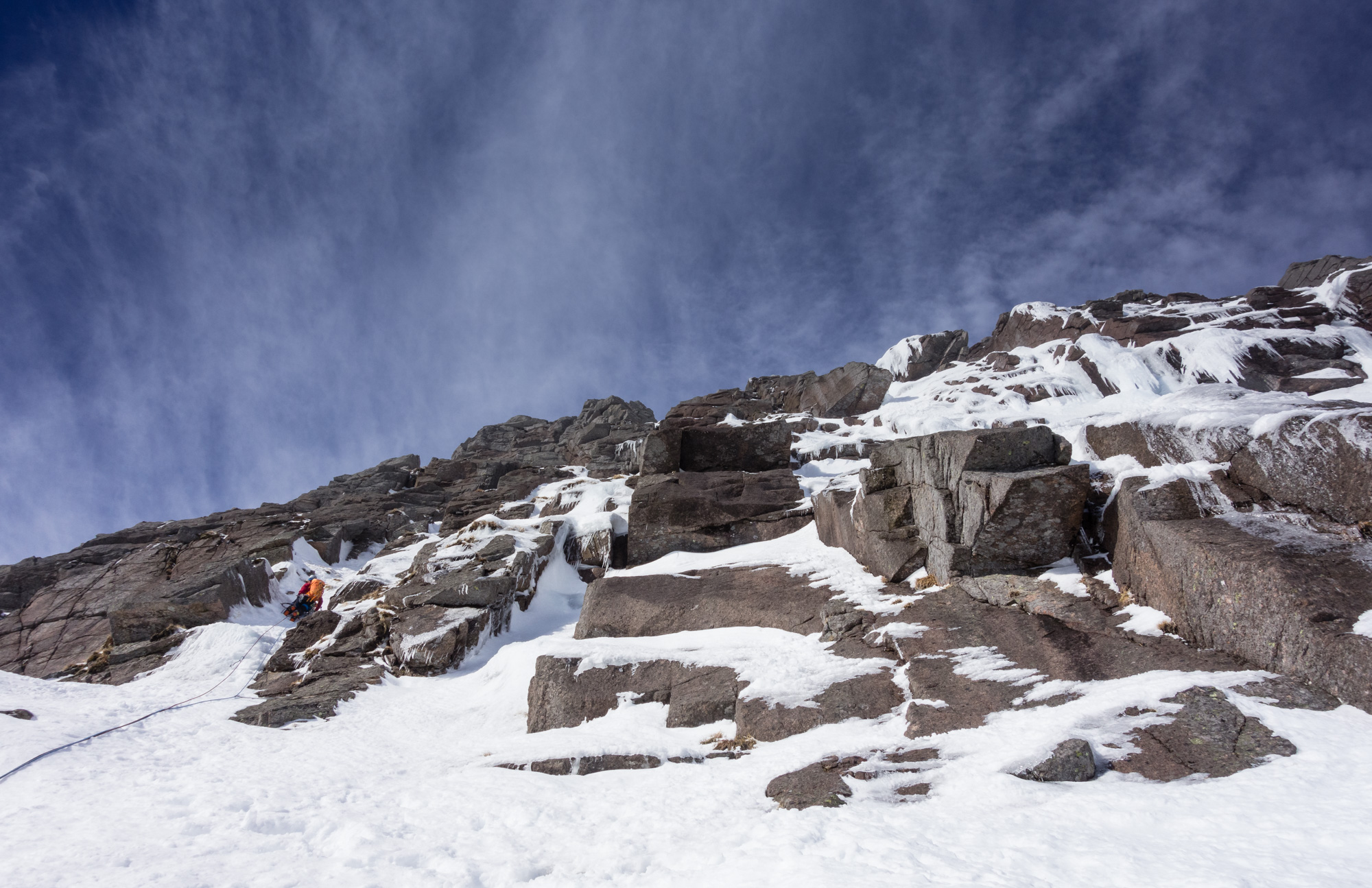 Once established, the route flowed by in a series of wonderful runnels and bulges with ice on the steep bits and neve in between. Rock gear was plentiful in the dry side-walls and the ice took an occasional screw. As the chimney narrowed and became even more atmospheric, the climbing just got better and better – we couldn't imagine wanting to climb this early season under powder!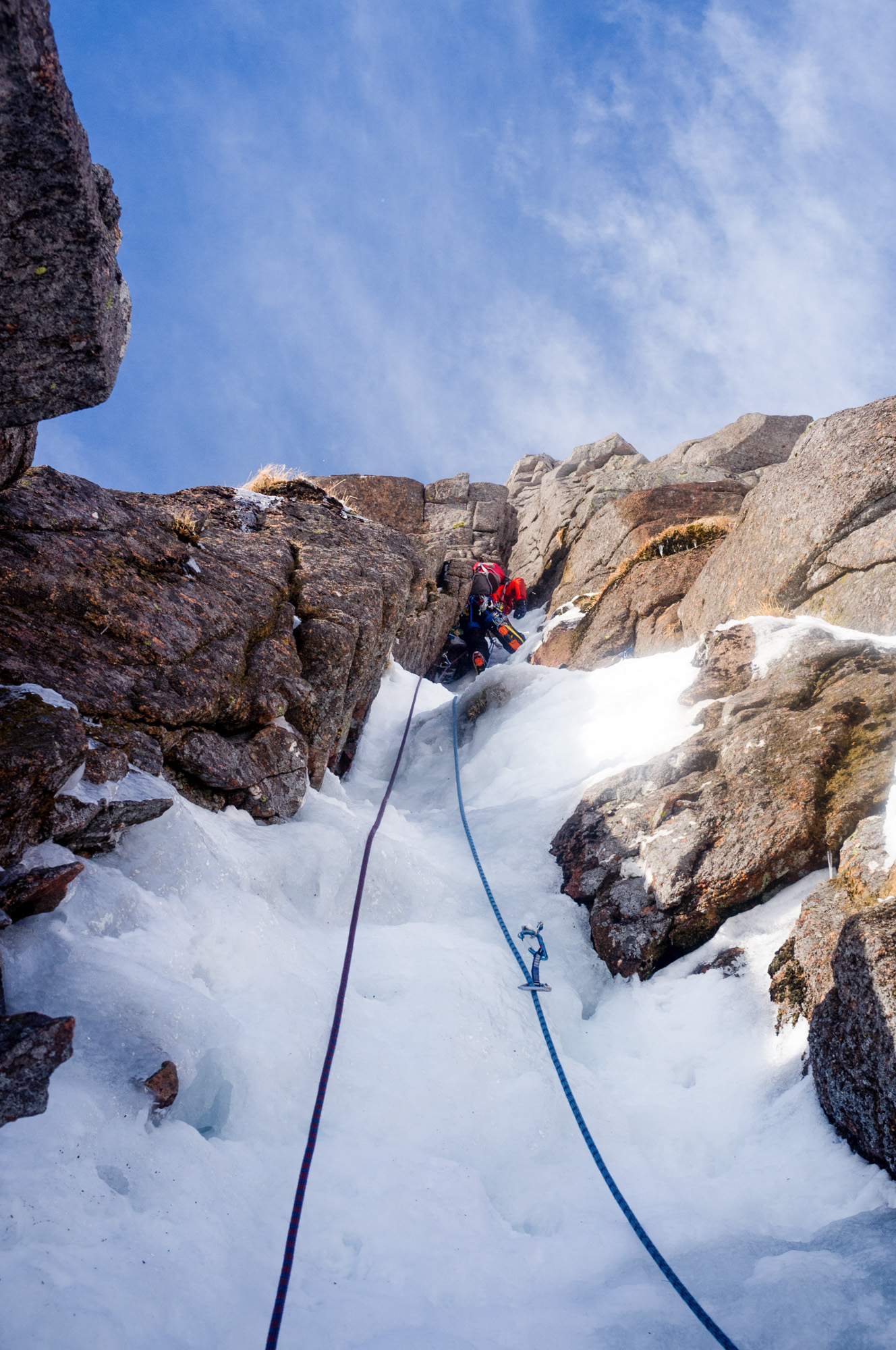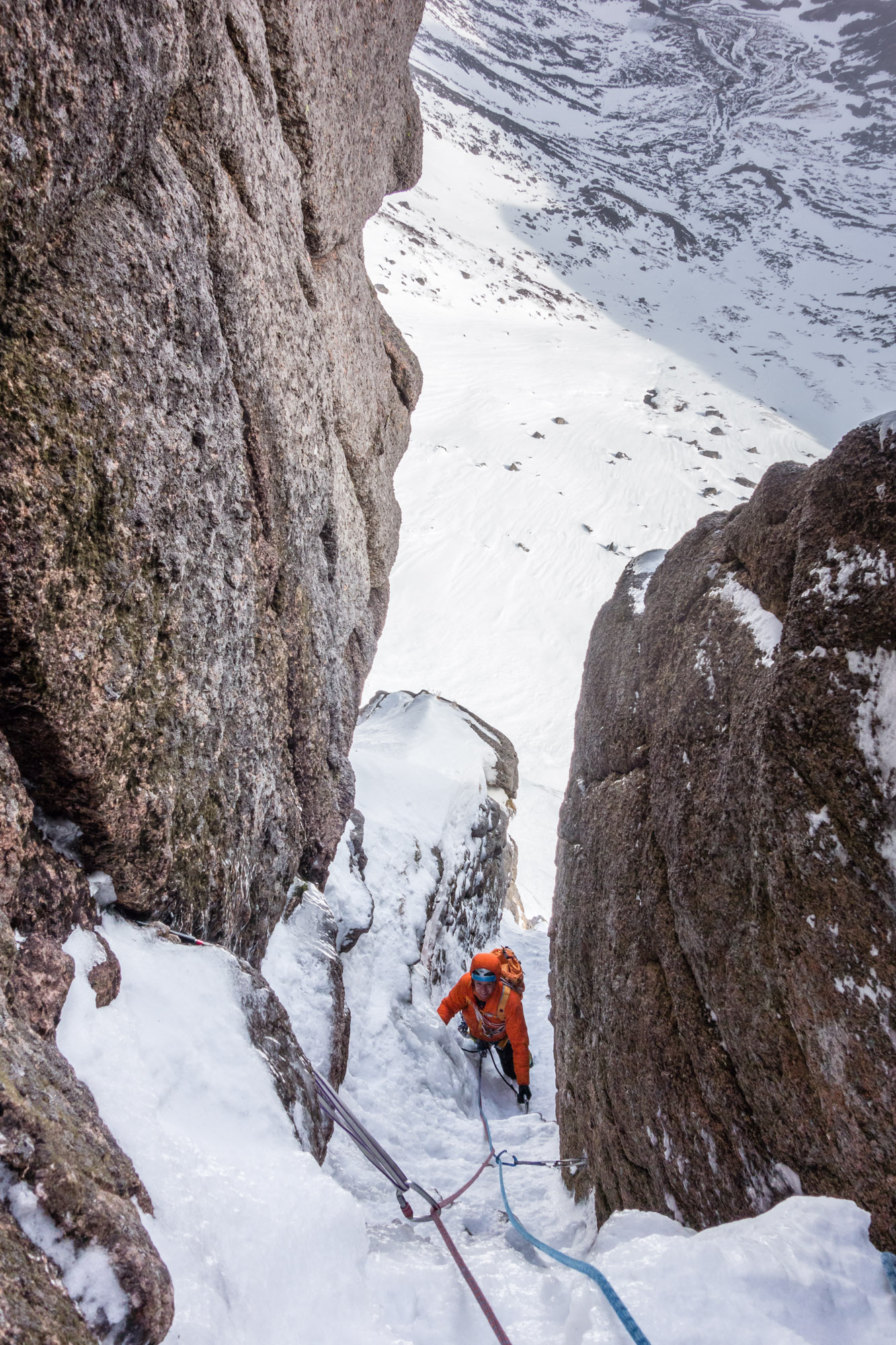 A shorter pitch took Andy into the confines of the upper chimney and it gradually swallowed him up. The odd spindrift shower kept me refreshed as I wondered what awaited in the depths…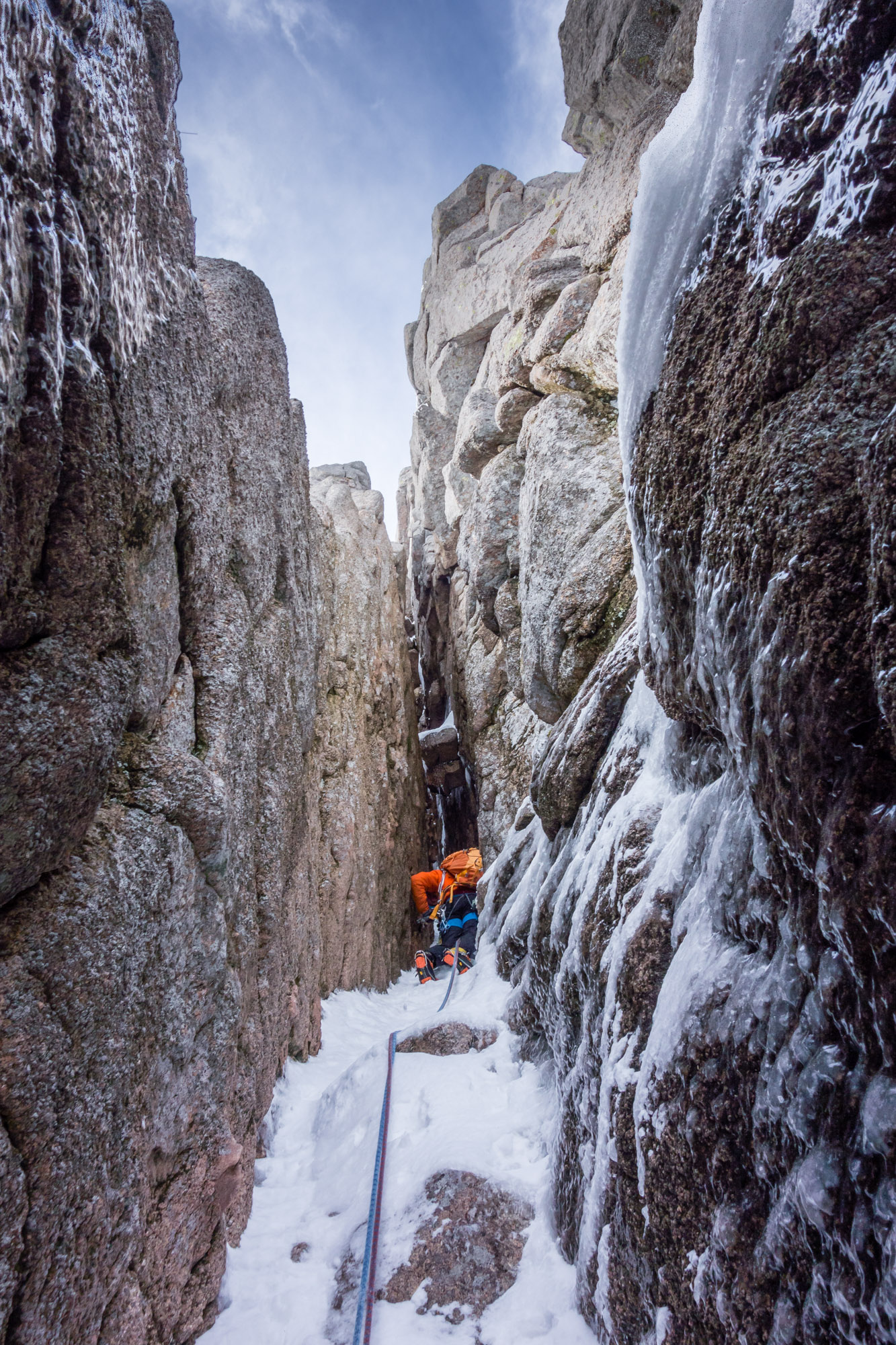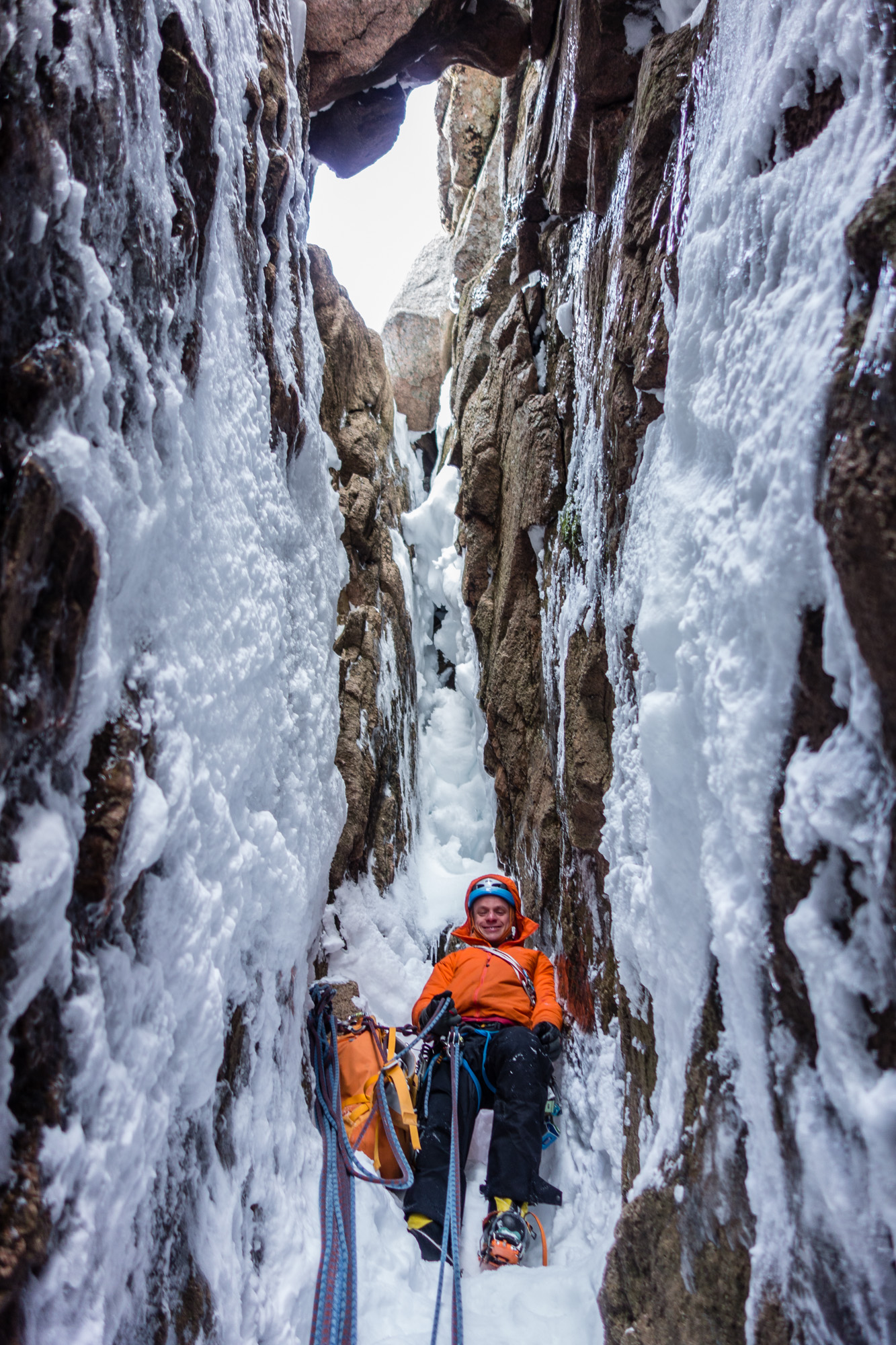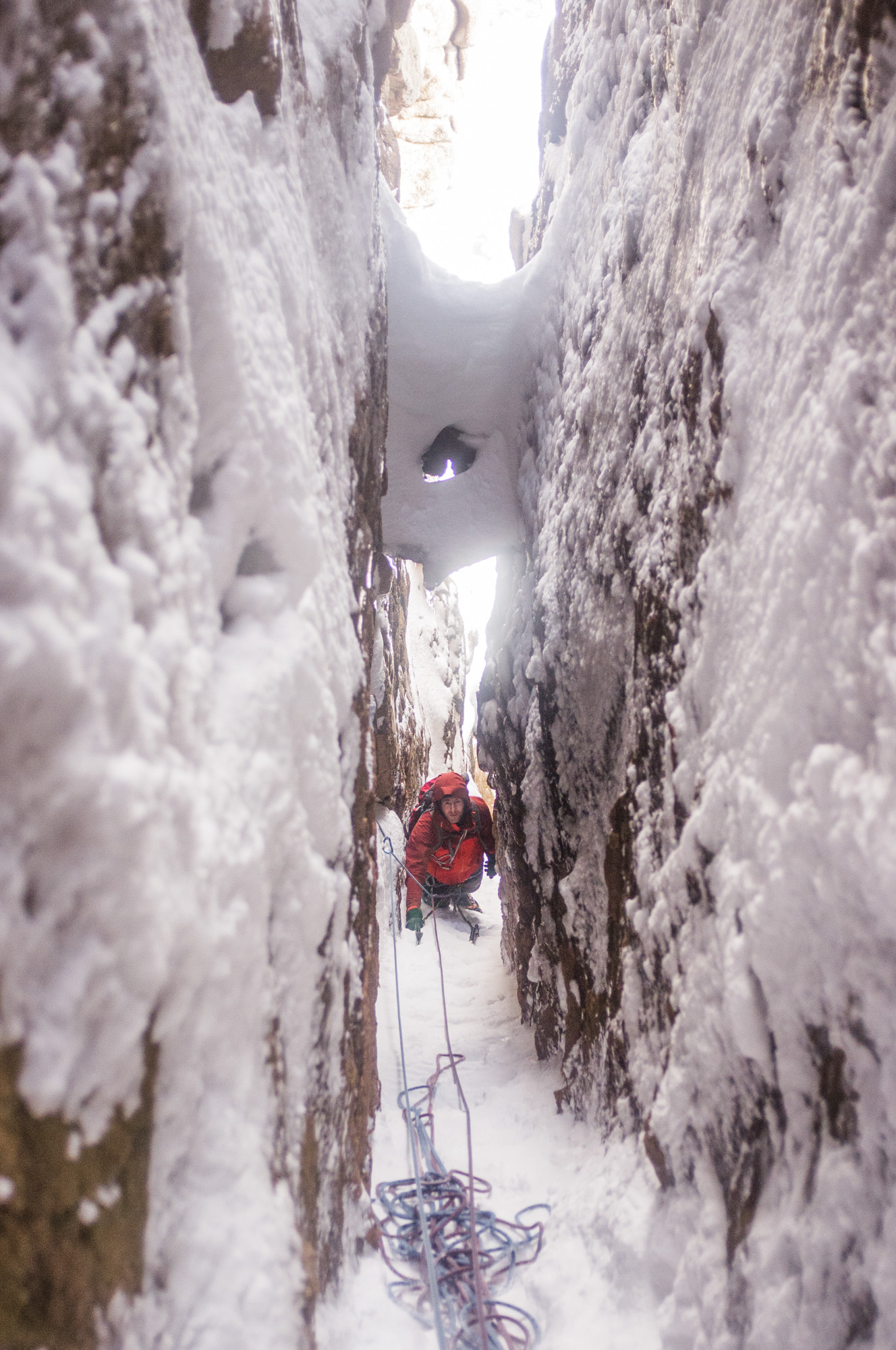 With daylight above us the only way was up! The final pitch is famous and involves an almost-unique sequence of back-and-footing moves up and out of the slot to reach a pile of wedged boulders. It's a surprisingly tricky and committing sequence and focus was required after the preceding pitches of neve romping. A foot popping got the adrenaline pumping but Andy was soon disappearing into the light!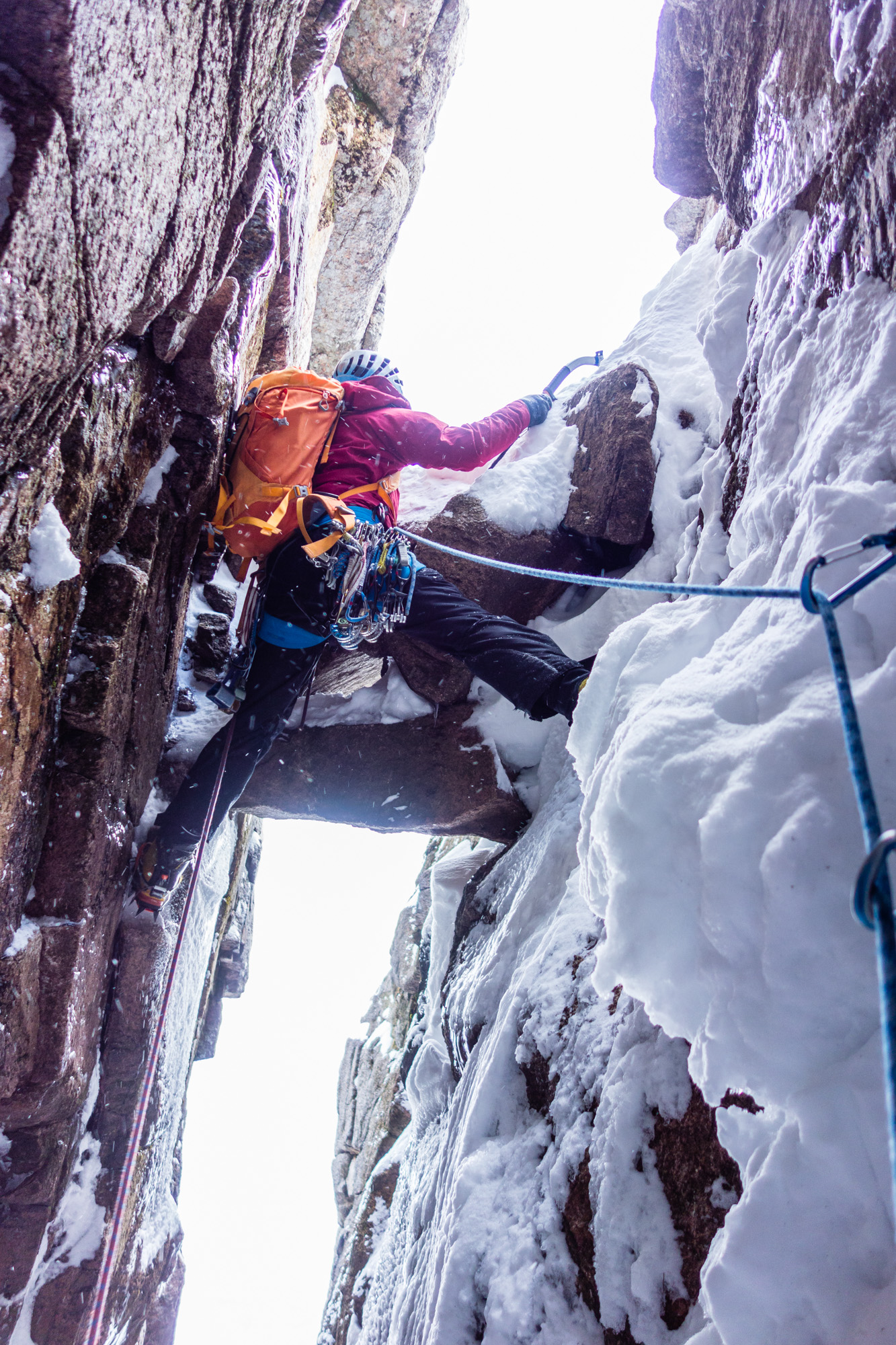 So hardly a consolation route and in fact one of the very best winter routes I've done, especially in these conditions. With even colder weather on the way it's set to get even better and I can't wait to get out there again!