In stark contrast to March's impromptu Font trip, this month's planned excursion looked set to suffer at the hands of the weather. Forecasts suggested roving bands of malicious showers sweeping the area and hopes for dry and cool conditions dwindled along with designs on some harder problems. However, at the eleventh hour the forecasts did a U-turn and predictions changed to hot sunshine once a small amount of rain had cleared the forest. Obviously dry weather is infinitely better than rain, but at the risk of whinging a little too much, it's fair to say excessive heat is certainly not desirable for such friction-dependent climbing!

Despite the humidity and oozing pores, we had a cracking first day at the beautiful Rocher Canon. The odd spot of rain did nothing to dampen the spirit and undeterred by the slippery slopers Debs made short work of the blunt arête problem, L'Angle Du (4+).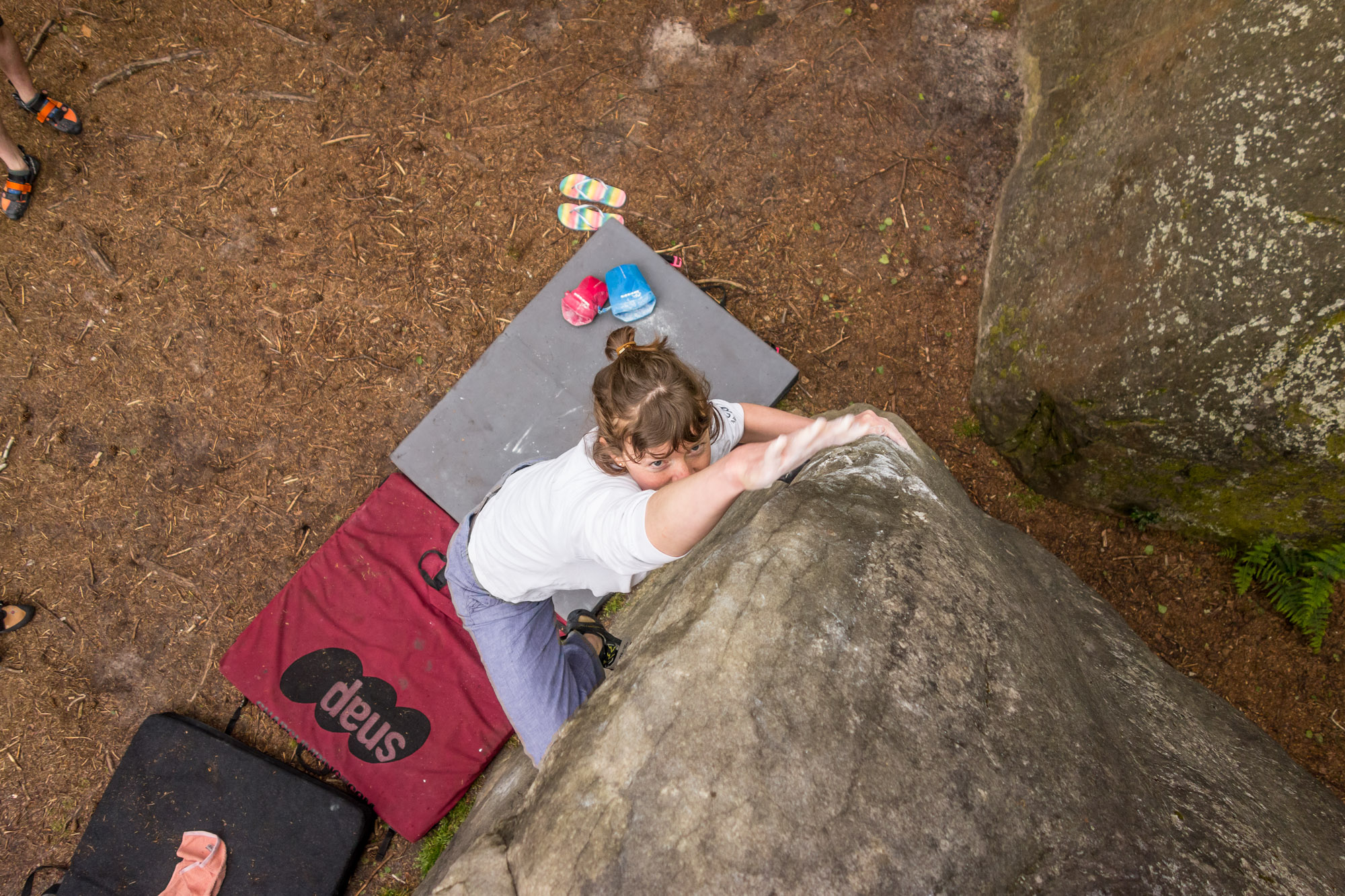 Next door on the fine scooped wall, Alex did battle with the infuriating crimp-fest of Via Grat (6a). Having left a sizeable chunk of my little finger behind while trying this problem back in March, I stayed well clear and snapped Alex's efforts from above.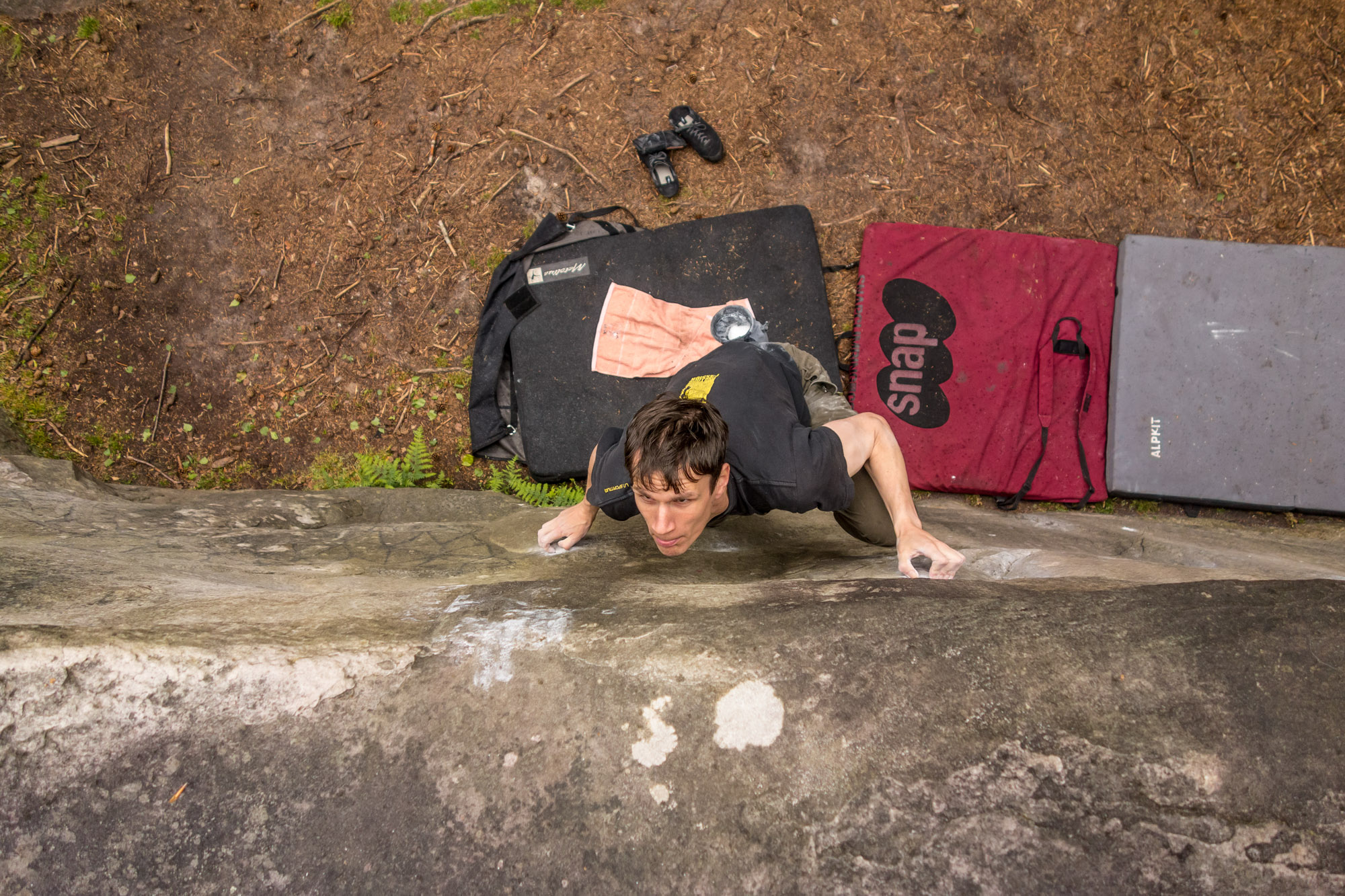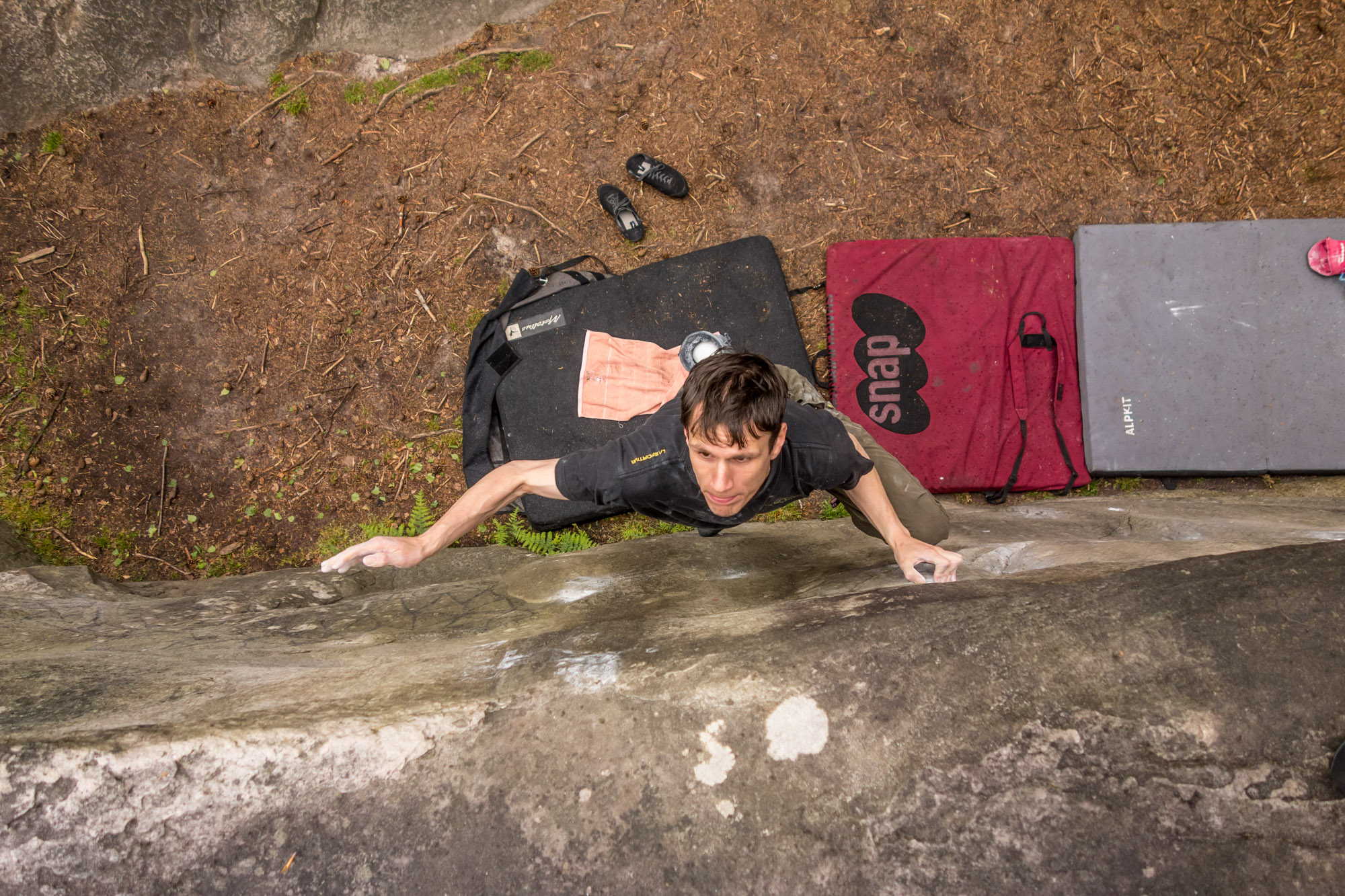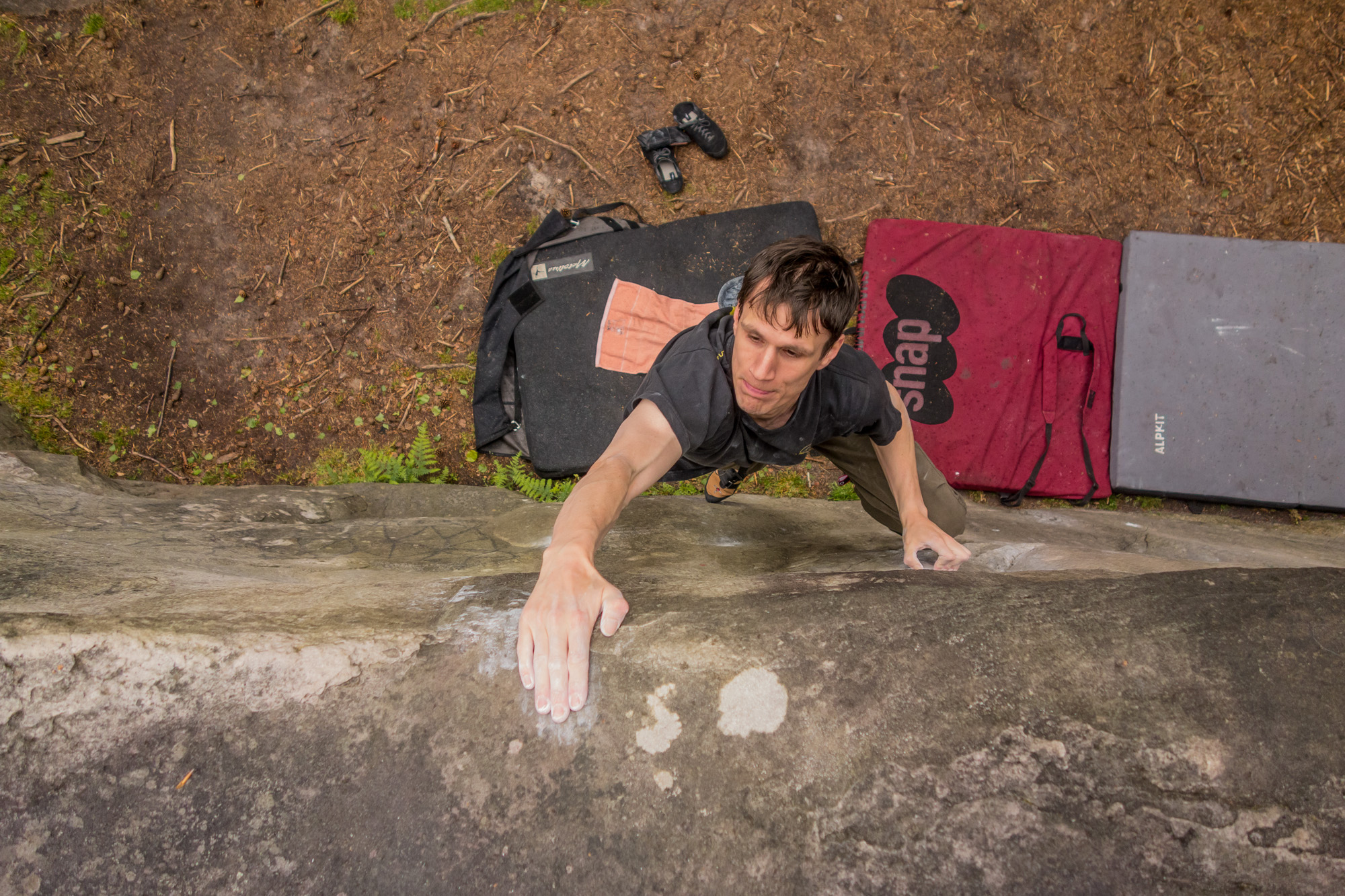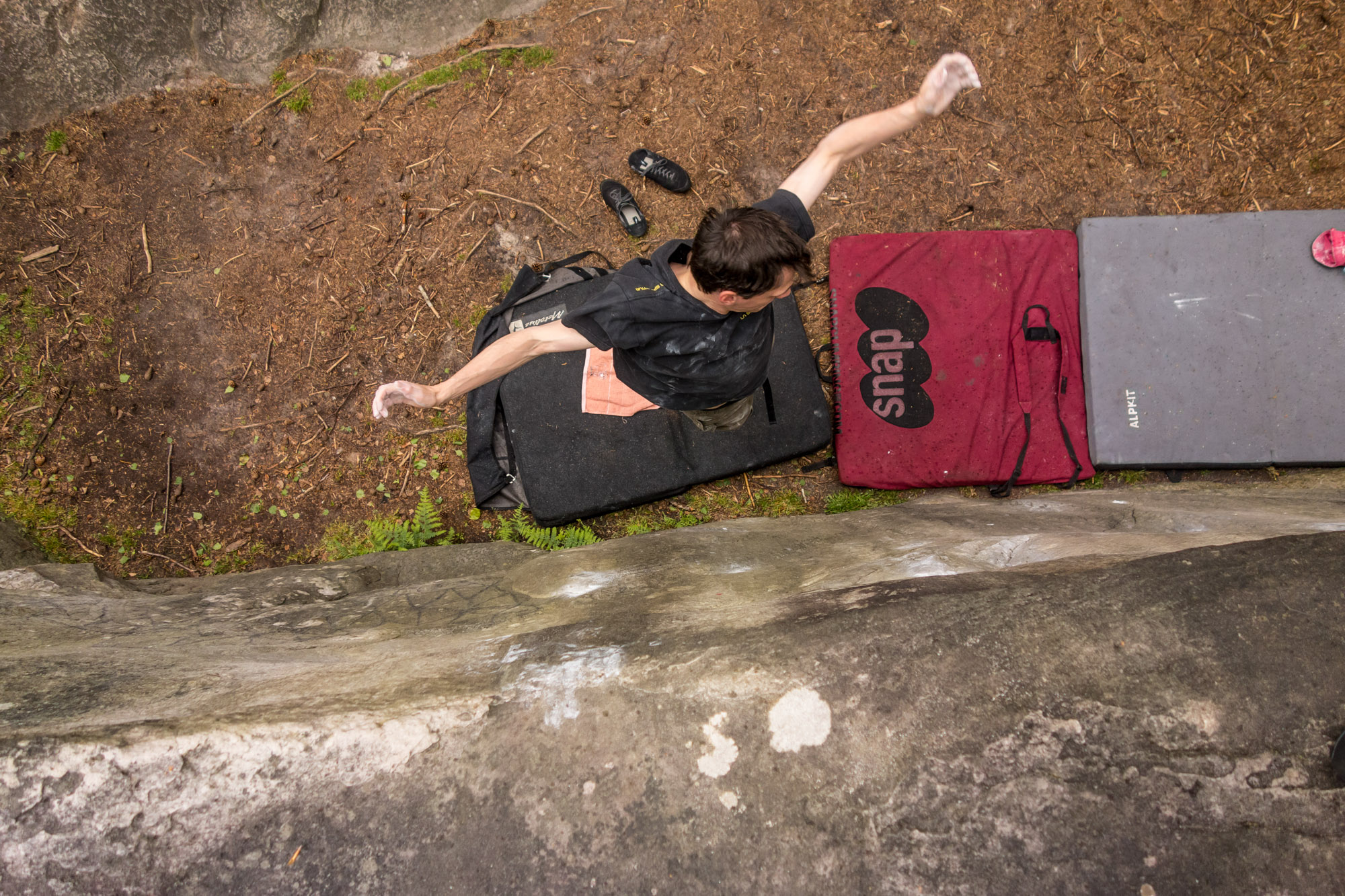 Swapping grease for grottiness I spent a few minutes brushing the overhung Sixieme Piste (6b+), which emerges from a small cave and involves a few burly moves on positive holds – bonne choix! The send-train promptly pulled into the station and Debs, Mark and Alex jumped aboard, with Debs ticking her first route at the grade.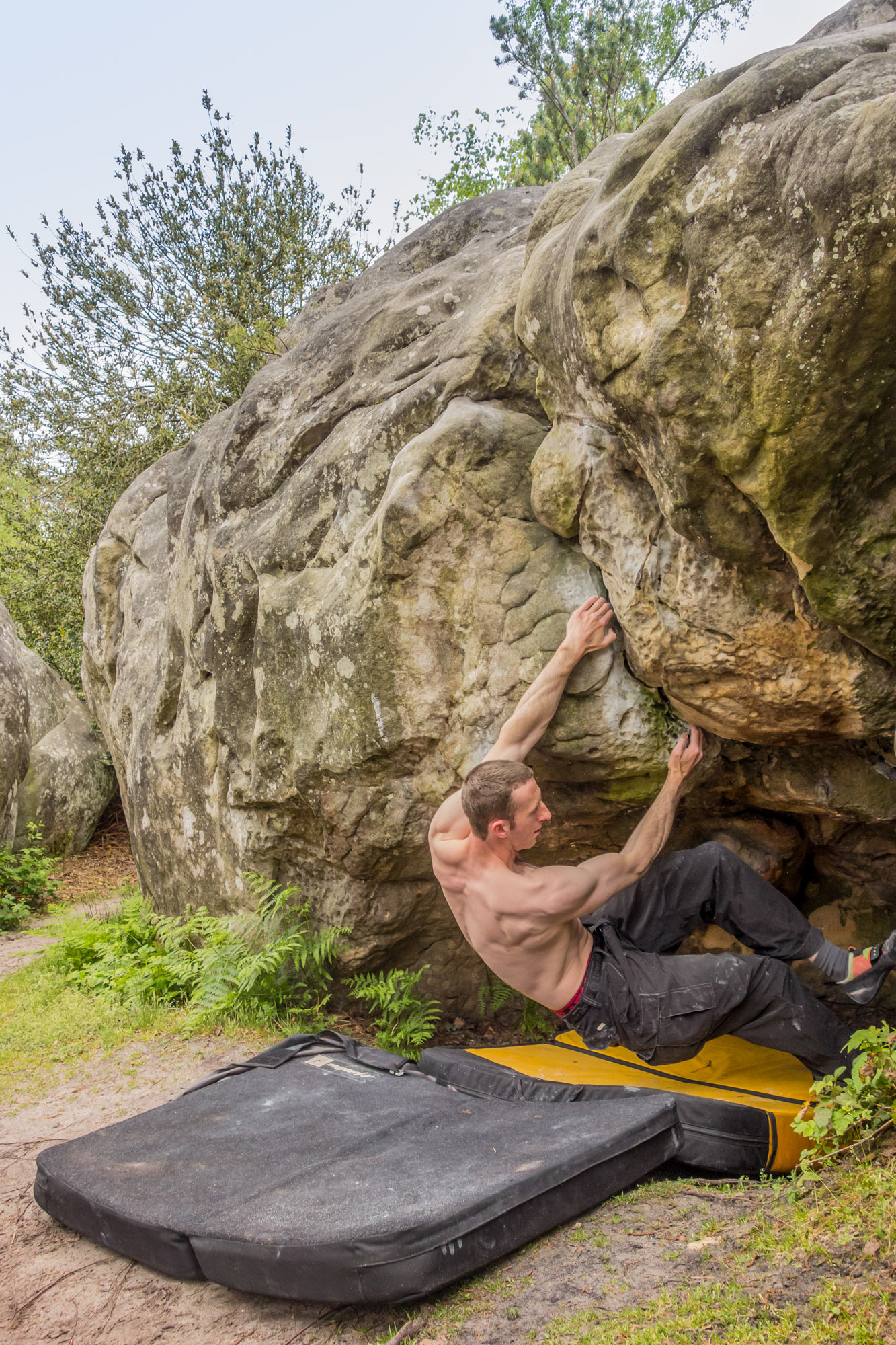 To round the morning off with a more traditional problem, we laid siege to the desperate sloping top-out of Les Calins de Kim (7a). Beginning with balancy moves up to a good hold, the route starts easily enough but quickly transitions into a horror-show of a mantel which only Ric managed to finish off – a very impressive feat considering his tendon injury and the conditions!
The afternoon was spent further up the hill and I directed Mark and Alex to a series of nice problems in the low sixes, which they despatched in fine style. Much time and skin was lost to Force G (6a+), a right-trending sloper ramp with another hard top-out, but I couldn't finish it. Even in cold conditions I reckon it would feel like massive sandbag!
Day two found us back in the unrivalled Franchard Isatis, an area that's established itself as the firm favourite of our group over the last few years. With classics left, right and centre, lots of high-quality warm ups and not too many polished holds, it's an area you can easily come back to again and again.
After a couple of attempts at the photogenic Nezzo (6a+), Ric pulled out all the stops and sent it in fine style!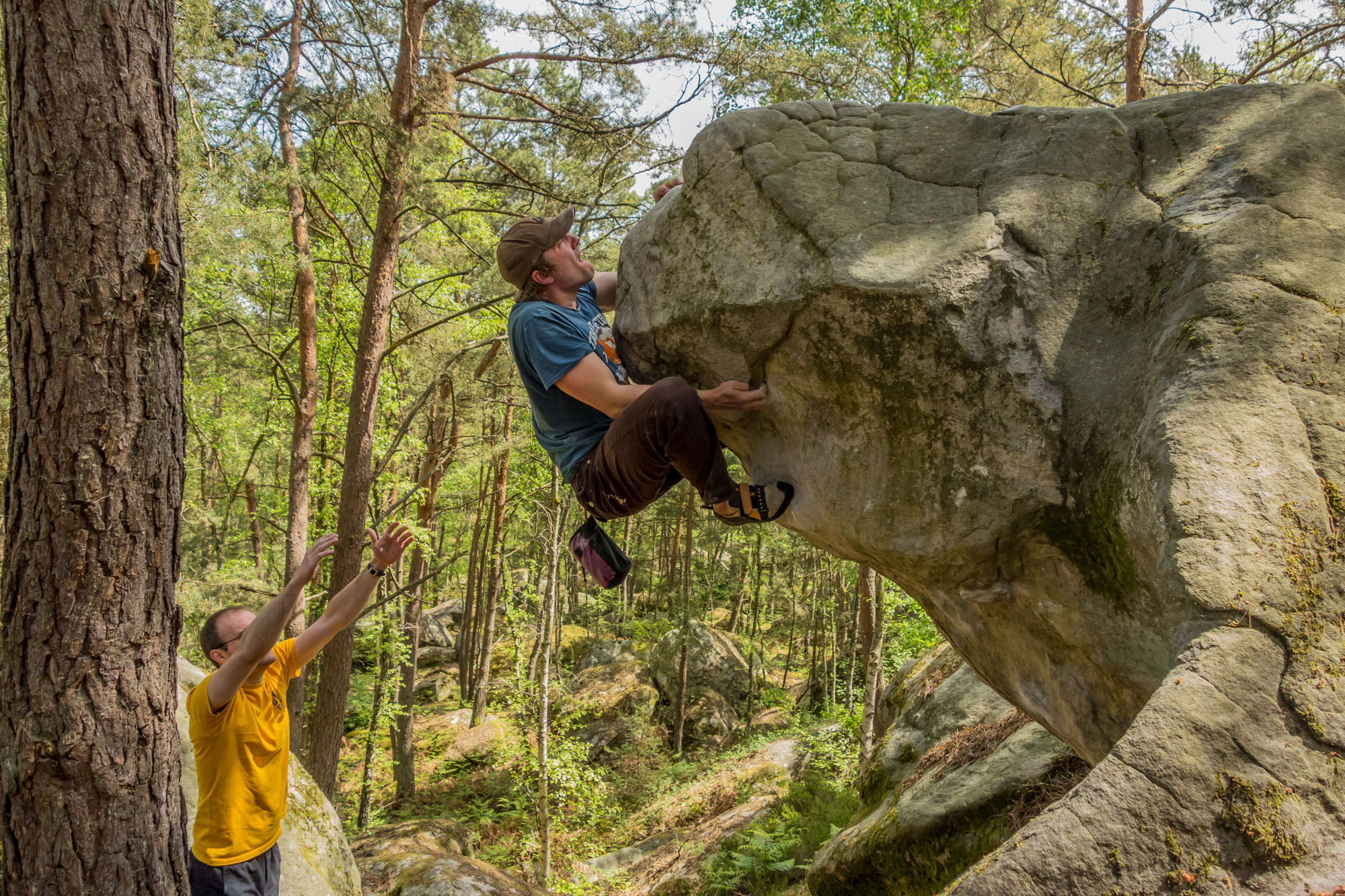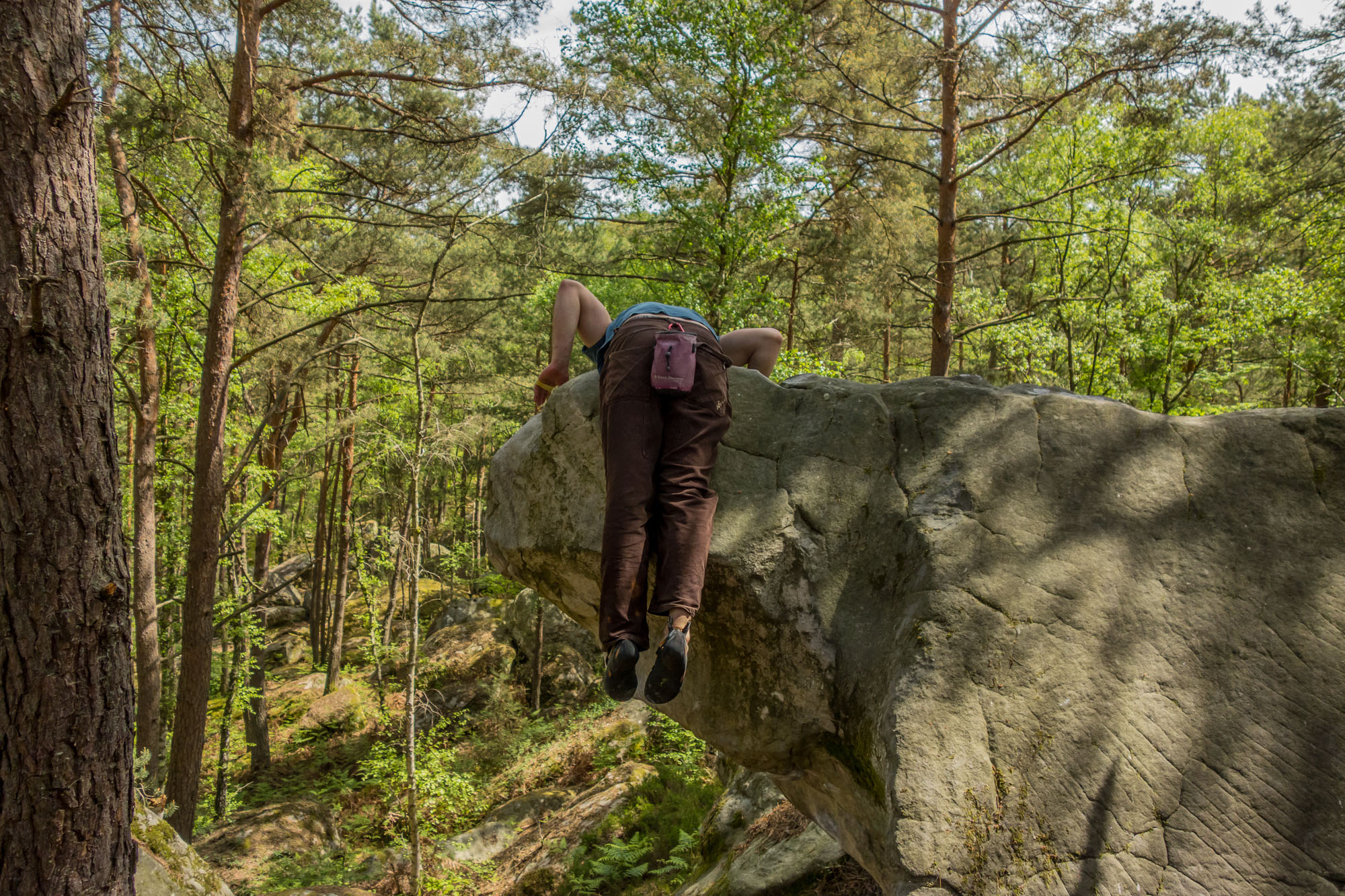 My target for the trip was a popular roof problem called Plastikman (7a). There aren't many moves involved but they're all powerful on quite poor holds, the final move being a dynamic throw for the top off a small crimp. Mark and I made good progress but I found I lacked the core stability to consistently match the holds on the lip of the roof. I can see it happening with some focussed training though, so hopefully next time….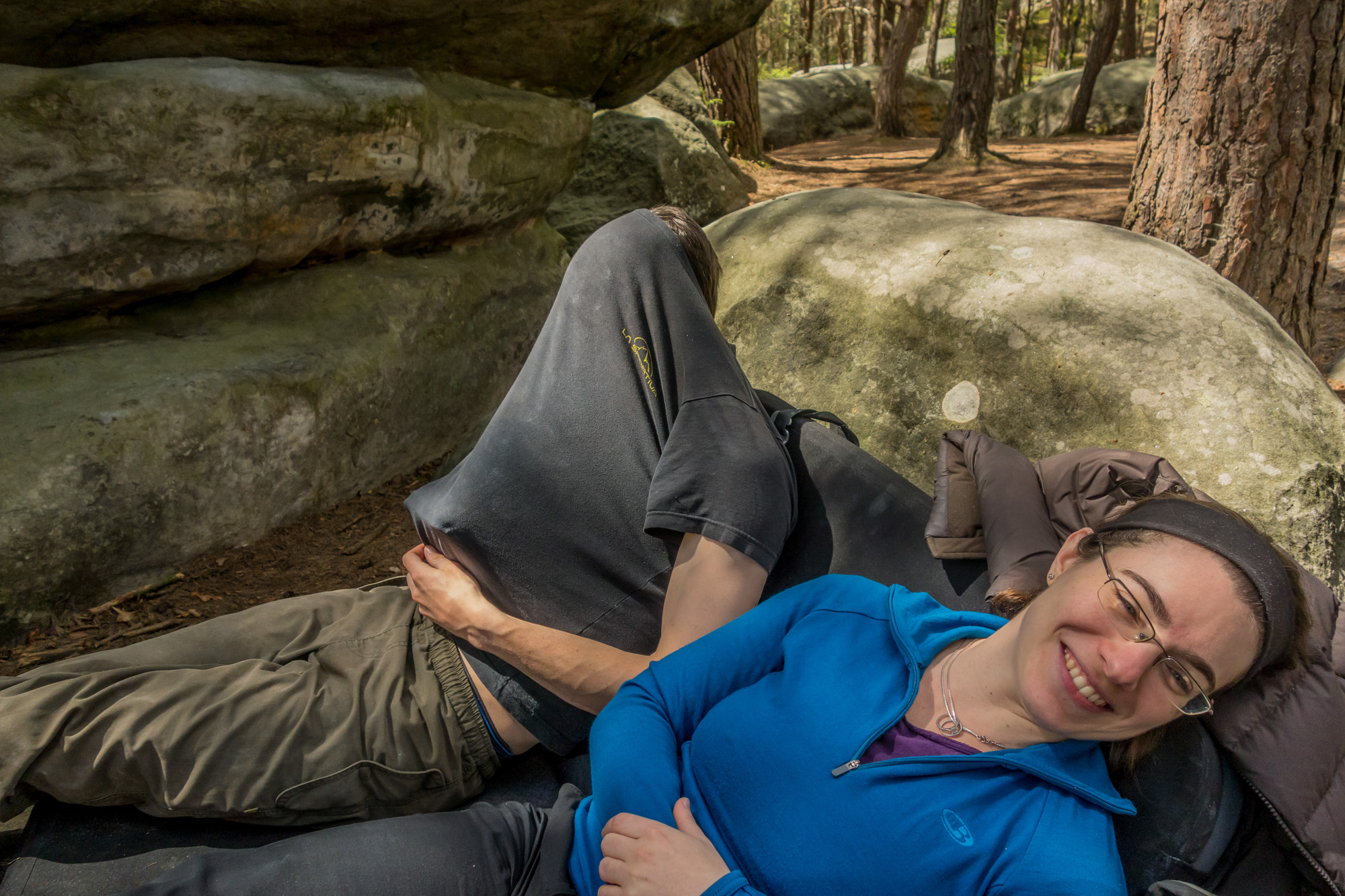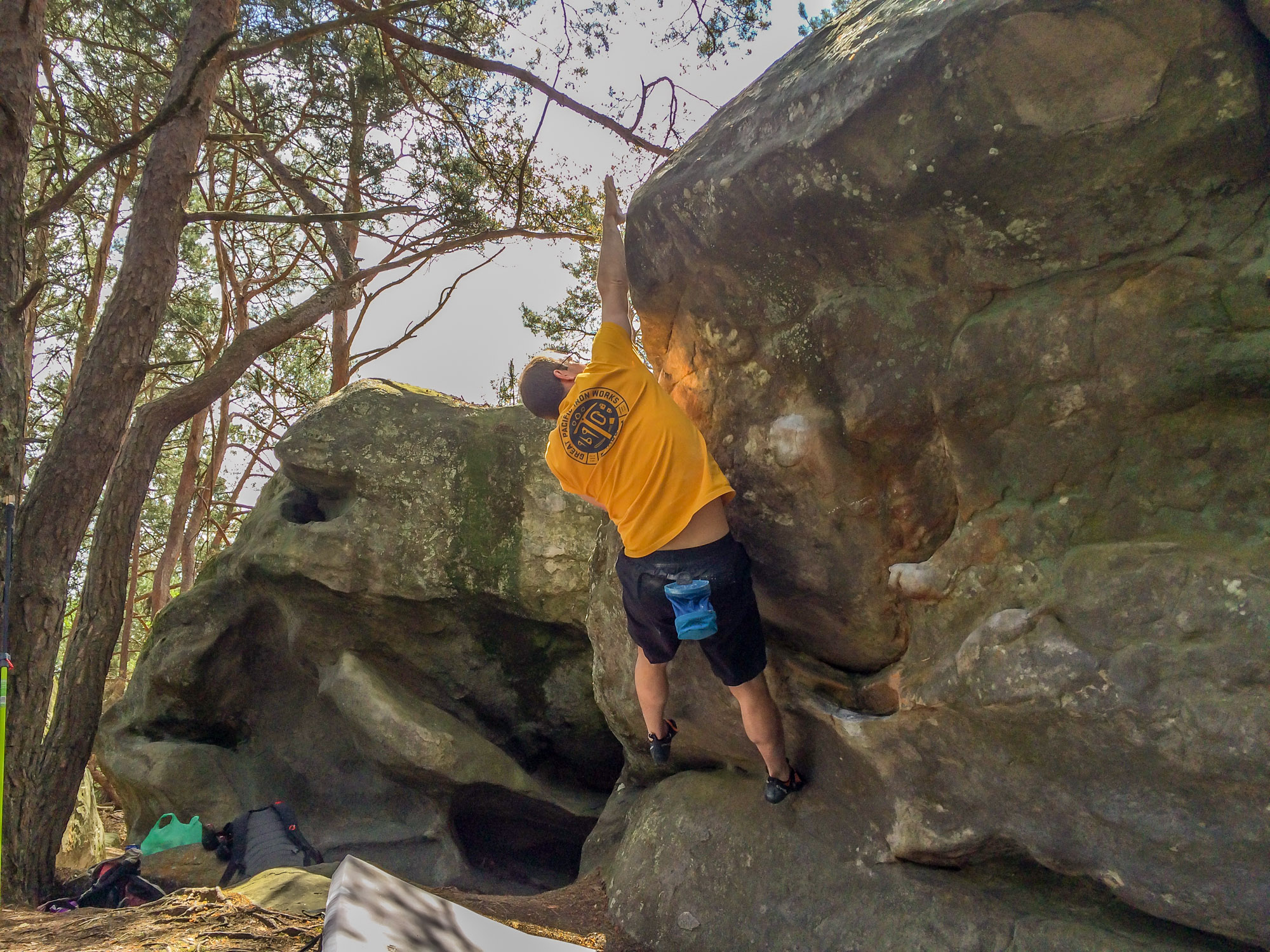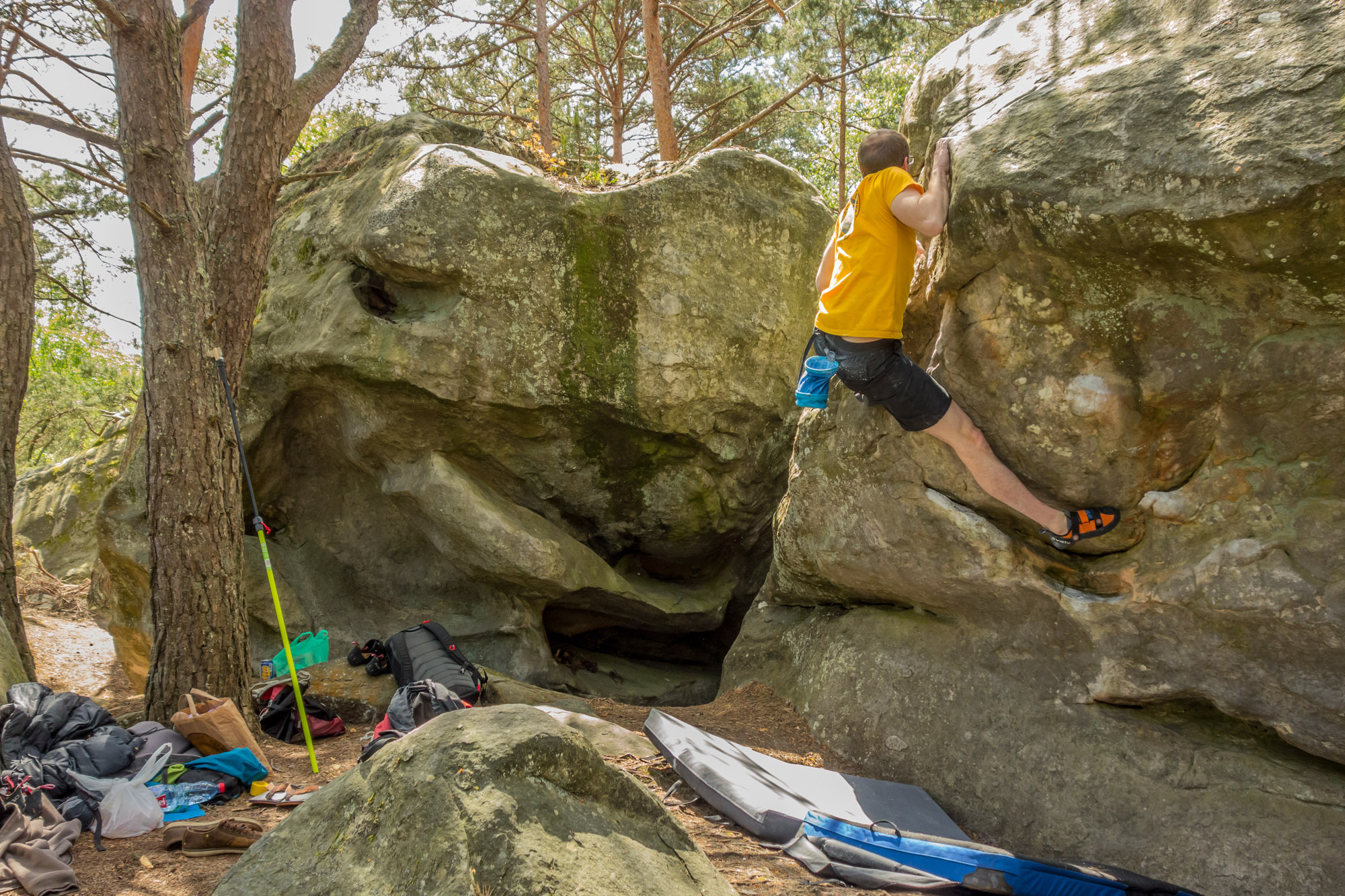 The final day was due to be the hottest of the lot with temperatures hitting the high twenties. Despite this we decided to head south to the venue of L'Elephant, famous as much for its ultra-highball death routes as its pleasant ambience and picnic spots. Thankfully there are good alternatives for the none-suicidal climber and while getting absolutely baked on the white sand we still managed to get lots of good problems done.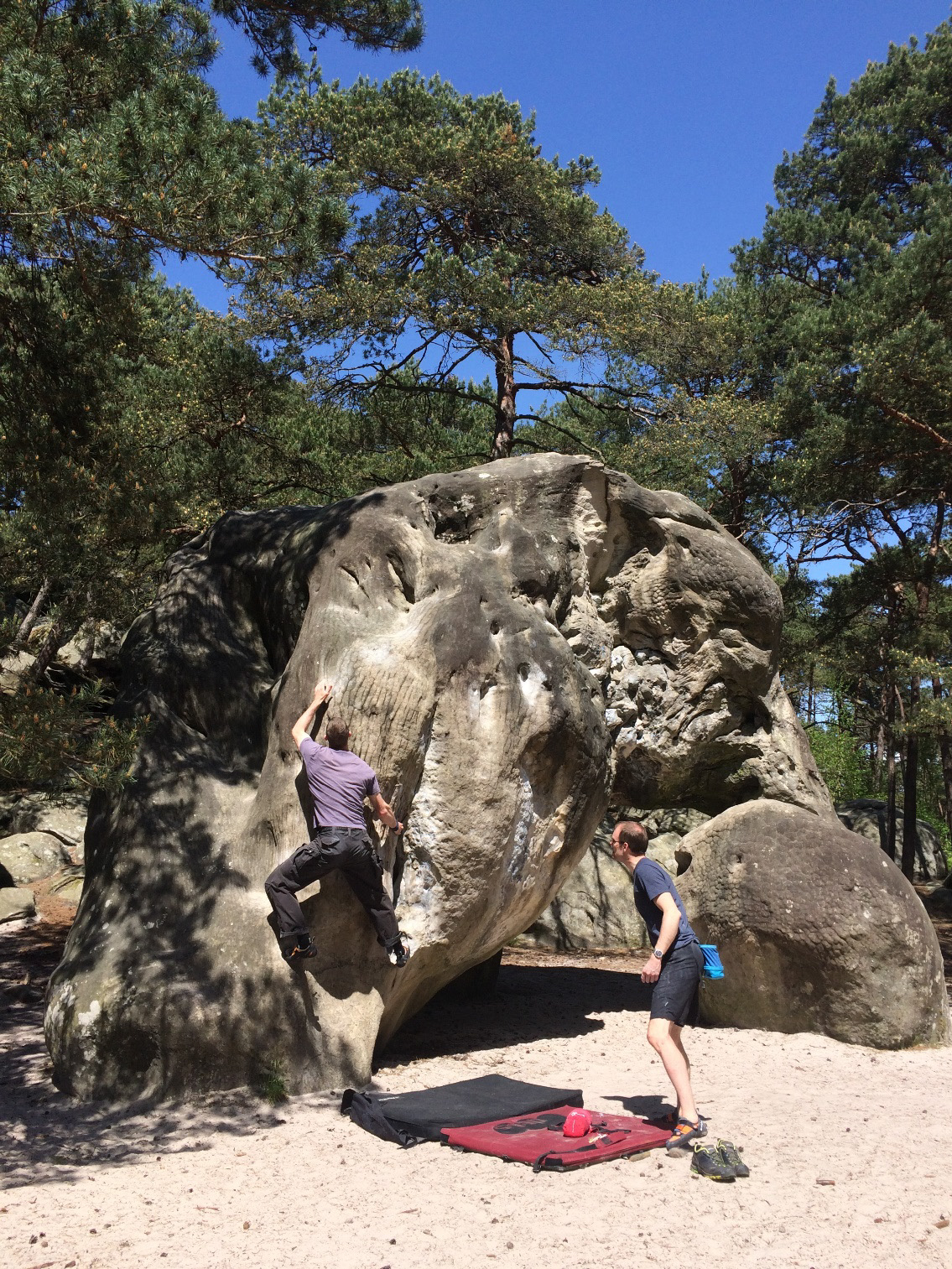 Highlights included the superb La Voice Michaud (6c) along with a couple of nice 6a's immediately to its left – La Moreau and La Charleuse. Impressively, Mark had by now managed to wear all the skin on the first pad of his finger off, leaving small dots of blood about the place. Nothing that some Cocodomol couldn't fix though! Elsewhere, Rick and Alex both strapped on a pair and cruised up the awesome pocketed wall of La Dalle a Poly (4+), which surely blurs the lines between bouldering and soloing!
So despite the heat a great time was had by all and our next visit to the forest is already booked for September. I just hope it's cooler!